Midterms May Spur Increased U.S. Fiscal Spending, Not Gridlock
(Bloomberg) -- If the U.S. midterm elections produce a divided Congress, the result will be a boost in fiscal stimulus, rather than partisan gridlock, according to SGH Macro Advisors.
Sassan Ghahramani, the research firm's chief executive officer, sees a high probability that Democrats take control of the House of Representatives and Republicans hold onto the Senate. But he doesn't expect that scenario to create the legislative logjam that many foresee.
He predicts Democratic control of the House will produce a major push for more fiscal stimulus that is likely to reflect priorities such as Medicare, health care and education, in addition to infrastructure. He also sees a few of those areas aligning with President Donald Trump's "populist leanings" as the focus shifts to the 2020 election.
"Contrary to a common assumption that this will translate into a return to partisan gridlock, we think it more likely the conventional wisdom will be defied on two key fronts, with another major boost to fiscal spending, and an extension of harsh trade policies, aimed primarily at China," Ghahramani said in a Nov. 5 note.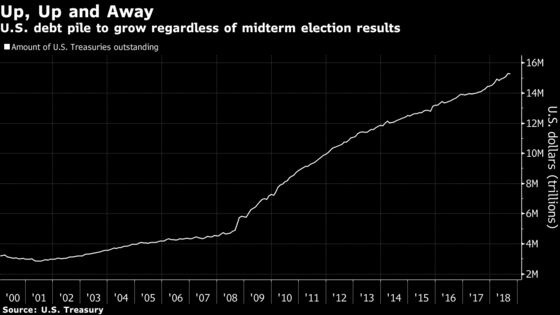 The potential for increased spending would come amid an already-grim fiscal outlook. There are also implications for the Federal Reserve's pace of policy tightening.
"The question in our minds is whether the renewed fiscal stimulus will come into place in 2019 or in 2020," Ghahramani said. "An important distinction to be sure for the markets -- and for the Federal Reserve -- but we do think it's coming."
As for trade, "we suspect the President may find more support among Democrats than assumed," he wrote. "Beijing may be miscalculating badly in expecting a weakened Trump, post-midterms, to translate into a weakened U.S. position on trade."