Midterm Ads Bode Well for Sinclair, Gray TV and Social Media
(Bloomberg) -- The midterm elections stand to boost certain corners of the media industry.
Highly contested races, such as gubernatorial contests in Georgia and Florida, have set the stage for local broadcasters to benefit from a jackpot of political advertising dollars. Some forecasters are projecting as much as $2.9 billion in political ads this year, according to Bloomberg Intelligence.
Gray Television Inc., Nexstar Media Group Inc. and Sinclair Broadcast Group Inc. top the list of beneficiaries from a booming political advertising cycle, writes analyst Bloomberg Intelligence analyst Mike Campellone, given their ownership of stations in key toss-up states. Shares of all three broadcasters are climbing to intraday highs.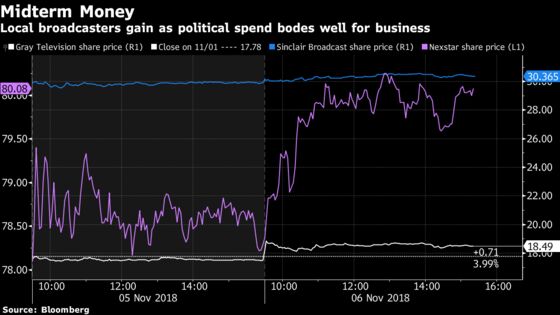 Gray Television released third-quarter earnings before the market opened, and the increased forecast for political advertising is a good omen for the rest of the broadcast television industry.
But the Internet is also driving the uptick in political advertising. "Campaign technicians are growing increasingly addicted to the highly-targeted spend that is available on the Internet and social media," Mike Caputo, a former aide to Donald Trump's presidential campaign, tells Bloomberg News.
Spending on the Internet has yet to account for the majority of campaign dollars "but it's creeping up there," Caputo said. Like the Internet's ability to reach voters more directly, the more targeted traditional media buys are then the more likely campaign managers are to spend that money, he said.
More interesting than the uptick in political spending, Campellone says, is the "exacerbated crowd-out of core advertising categories" such as national and local advertising revenue. The potential decline in those areas are consistent with inventory displacement as a result of increased demand from political advertising customers, a Gray Television filing noted.