Microsoft Gains as Cloud Margins Prompt Wall Street Cheers
(Bloomberg) -- Microsoft Corp.'s improving cloud margins in its fiscal first-quarter report were well received on Wall Street, where investors pushed the stock as high as $108.97 in its biggest gain since March. The tech giant's bundling efforts have given customers more flexibility with licensing, Oppenheimer said to clients in a note.
Alliance Bernstein boosted its price target on the stock as the commercial cloud business is "showing no signs of slowing," while another bull believes the earnings report has positive read-through to networking-exposed vendors like Applied Optoelectronics Inc. and Arista Networks.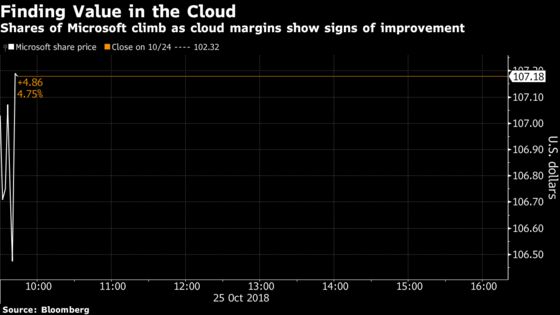 Here's what Wall Street is saying:
Alliance Bernstein, Mark Moerdler
"We think this quarter was once again strong as Microsoft continues to maintain a strong on-premise business coupled with a commercial cloud business showing no signs of slowing down in any material way."
"The business model is beginning to bend the curve, leading to operating profit growth comfortably in the double digits, we remain positive & treat as a core holding."
"Success was broad-based, but gaming was a highlight again, as Fortnite drove 36% growth in Xbox software and services."
Outperform, raises $137 price target from $135
Raymond James, Simon Leopold
"Management remained committed to continue to grow its capex investments in order to meet cloud demand, calling for December investments to increase on a year over year basis but to remain roughly flat sequentially," the firm said in a note to clients.
"We view the strength in spending and management commentary as positive for exposed networking vendors, including Applied Optoelectronics and Arista, among others."
Strong buy, price target $126
Oppenheimer, Timothy Horan
For Microsoft, Azure year-over-year "growth is slowing but the company is bundling a lot more services and giving customers more licensing flexibility, which is driving demand for legacy services that augment hybrid cloud solutions."
"Azure is seeing success selling more premium services and 365 is moving customers up to higher-priced tiers. As a result margins are improving in cloud-based businesses," but Horan believes the company still has more to go.
Oppenheimer expects Microsoft to close on its GitHub acquisition shortly, which will help it better engage developers who are increasingly playing more.
Outperform, price target $127
BMO Capital, Keith Bachman
Microsoft's quarter was "strong across the board" though cash flow was one of the report's few weak areas, the firm wrote in a note to clients. "We think free cash flow can grow at low-double-digit rates for the next few years, excluding tax payments."
"We believe strength in the OEM Pro business will continue for the next several quarters due to an aging commercial PC installed base and a relatively strong IT spending environment."
Outperform, $125 price target