Microsoft Forfeits Most-Valuable Crown to Amazon
(Bloomberg) -- Microsoft Corp. is no longer the top dog on Wall Street.
Shares of the company fell more than 3 percent in the wake of its results on Thursday, and the decline took the company's market capitalization decisively below that of Amazon.com Inc.
At current levels, Microsoft has a market value of about $803.3 billion, compared with Amazon's $844.7 billion valuation. While Amazon ended fractionally more valuable in Wednesday's session -- $817 billion versus Microsoft's $816 billion -- the gap became far more pronounced as Microsoft fell and as Amazon rose 2.3 percent ahead of its own results.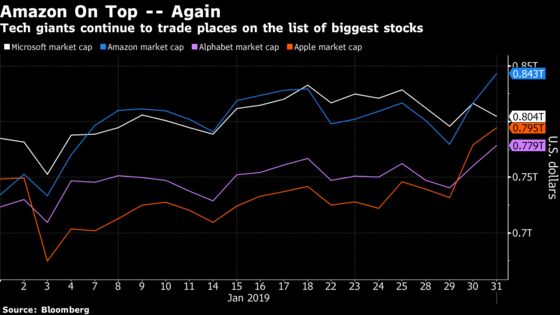 Megacap Internet and technology companies have long dominated on the list of Wall Street's largest stocks, though the rankings have been volatile of late. Apple Inc. -- for years the biggest name, with a valuation that topped $1.1 trillion in 2018 -- currently stands at the third-largest stock, valued at about $792 billion.
Google-parent Alphabet Inc., which was the third-largest stock earlier this week, currently stands as the fourth, with a market cap of $777 billion.