Long-Term Inflation Expectations Hit Record Low in Michigan Consumer Survey
(Bloomberg) -- U.S. consumer expectations for inflation over the longer term fell to the lowest on record in December, according to the latest University of Michigan sentiment survey.
Respondents expect annual inflation of 2.2% over the next five years, the lowest in data back to the late 1970s, final December figures from the university showed on Friday. Year-ahead price expectations were revised down to 2.3%, the tamest since the end of 2016, from a preliminary reading of 2.4%.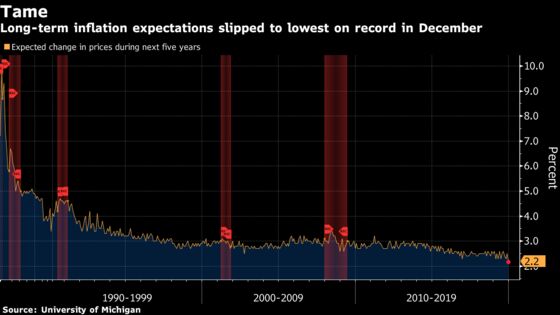 This may spark some concern among Federal Reserve policy makers who believe price expectations are a leading driver of actual inflation. Price gains have persistently come in below the Fed's 2% target since it was adopted in 2012.
The university's final December consumer sentiment index was 99.3, little changed from the preliminary figure of 99.2, and up from November's 96.8 and a seven-month high.