Michigan Cases Surge to Worst in Nation as Variants Multiply
(Bloomberg) -- Michigan is grappling with a coronavirus spike that has made it the hottest Covid-19 spot in the U.S.
The state reported more than 8,000 infections and 30 deaths on Wednesday. It averaged 470 new cases per 100,000 residents over the past week, according to the U.S. Centers for Disease Control and Prevention -- on pace for new cases to surpass their December record any day.
Those cases are filtering through to the health-care system: 2,632 patients are hospitalized with the virus, making Michigan the most burdened in the country per capita, according to an analysis by the University of Minnesota.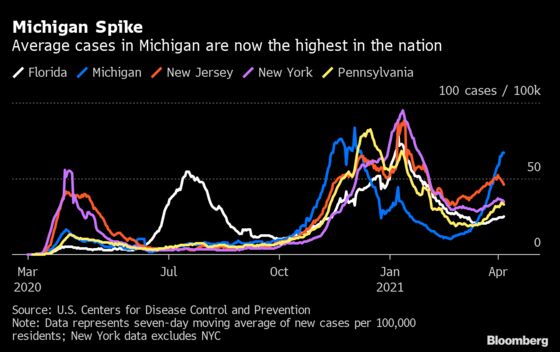 The spike is alarming for policy makers who had hoped the rapidly accelerating vaccine campaign could stave off further spikes, allowing the economy to safely reopen. The prevalence of variants complicated those efforts, in particular the B.1.1.7 version first found in the U.K. and now the dominant strain in the U.S.
Michigan has administered more than 5 million doses of the vaccine, with 32% of residents inoculated with at least one dose, according to Bloomberg's Vaccine Tracker. More than 200 fully vaccinated Michigan residents were later diagnosed with Covid-19, the Detroit News reported. Three fully vaccinated patients died, the report said, citing state health officials, who are conducting further review.