Michaels Has Record Gain as New CEO Brings Digital Expertise
(Bloomberg) -- Michaels Cos. surged the most on record after naming Ashley Buchanan, a 12-year Walmart Inc. veteran, as its next chief executive officer.
Buchanan was named president and CEO designate at Michaels and appointed to the board, effective Jan. 6. He will succeed Mark Cosby as CEO after a transition period that ends April 1, the Irving, Texas-based retailer said in a statement. Cosby was named CEO in October after holding the position on an interim basis since February.
As the former chief merchandising and chief operating officer for Walmart's U.S. e-commerce business, Buchanan satisfies Michaels' need for "an executive with heavy digital experience," according to Stephens Inc. analyst Rick Nelson. Shares of Michaels jumped 33% on the news, the most since its 2014 initial public offering.
"The arts/crafts industry appears to be in the early stages of shakeout with consumer creativity increasingly swinging to social media and competitors beginning to close stores," Nelson wrote in a research note.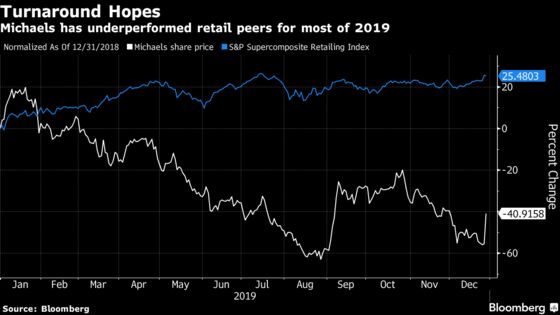 Near-term challenges remain. Michaels also said Friday that Chief Financial Officer Denise Paulonis has accepted a position at another company and will leave at the end of the fiscal year on Jan. 31. The company is also taking on some leases from rival A.C. Moore, which said in November that it would close its stores due to the tough retail environment.
"We see MIK as an eventual winner with a dominant market position, brand awareness, and strong balance sheet," Nelson said, referring to Michaels by its stock symbol. "In the interim, however, store closings, liquidation sales, and new strategies are likely to produce choppy results."
Michaels is a popular target for short sellers and Friday's move suggests bearish bets are getting squeezed. Short interest accounts for 37% of the available shares, up from 19% at the beginning of the year, with almost 10 days to cover, according to financial analytics firm S3 Partners.