Mexico Under AMLO Can Accept Additional Migrants, Official Says
(Bloomberg) -- Mexico says it can accept significantly more Central American migrants given its low percentage of foreign residents relative to the U.S., where President Donald Trump has threatened to close the border due to undocumented arrivals.
"We believe that Mexico has a capacity to absorb migrants," said Roberto Velasco, the spokesman for Foreign Minister Marcelo Ebrard, said in an interview on Wednesday. "We're one of the countries with a lower rate of immigration. What we want is for this to occur in a legal, orderly and safe way."
In response to reports that the U.S. could make asylum seekers wait in Mexico during processing, Velasco said his government has no control over how the U.S. processes immigrants at its border. All Mexico can do is "provide migrants with the best possible conditions in our country," he said.
Mexico is home to 1.2 million migrants, according to a report last year by the United Nations. While that's more than double the level from 2000, it represents just 0.9 percent of the overall population, compared with 15.3 percent in the U.S., 14.8 percent in Germany and 13.4 percent in the U.K., where immigration critics say foreigners are changing the culture of their countries and taking jobs away from citizens.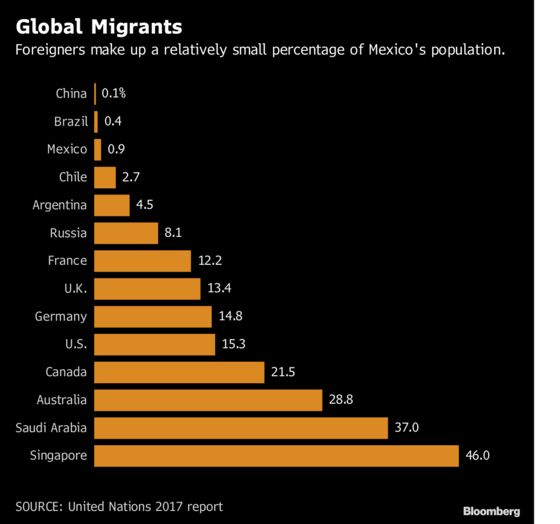 Mexican officials have said the nation has the capacity to absorb up to 100,000 Central Americans per year through temporary and permanent visas. The nation's unemployment rate reached an 11-year low of less than 3 percent in March, although getting a complete picture on the job market is complicated because more than half the population works in the informal economy.
The U.S. and Mexico on Tuesday pledged to work together to foster new public and private spending on development for Central America and southern Mexico to spur economic growth in an attempt to address the roots of a migrant crisis that has drawn Trump's frustration.