Mexico Tax Chief Vows to Milk More Big Companies in Crackdown
(Bloomberg) -- Mexico has plenty of room to keep boosting revenue by cracking down on often fraudulent tax schemes used by major companies, the head of the country's tax authority said on Wednesday.
Raquel Buenrostro, head of the agency known as SAT, said government's efforts to make taxpayers cough up their dues had boosted income by 2.4% of gross domestic product -- in line with additional revenue drummed up by a tax reform in the prior administration.
Buenrostro said audits of big companies had helped raise 155 billion pesos ($7 billion) in the first eight months of the year, a more than 60% increase over the entire annual amount collected from major companies during the previous two years. She said so far the government had audited only 5% of the nearly 12,000 big taxpayers that account for around half of the government's tax income.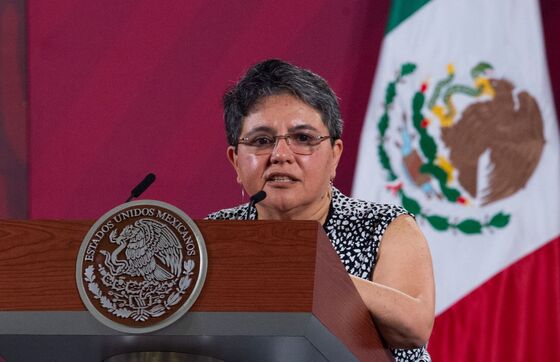 "There are a lot left to review. We still have some margin for a while," Buenrostro said at President Andres Manuel Lopez Obrador's daily media conference. "The numbers show us, right now, we do not need a tax reform."
While most countries have offered tax breaks as the coronavirus pandemic hobbled their economies, the populist Lopez Obrador has refused major fiscal stimulus and instead said companies needed to step up after decades of failing to pay their fair share. Buenrostro said 413 billion pesos ($18.7 billion) in taxes were forgiven by the government from 2007 to 2018.
Some Mexican business leaders have called the tax crackdown "fiscal terrorism." Last week, the London-based International Bar Association wrote to Finance Minister Arturo Herrera to complain about reports that taxpayers were being advised to meet with authorities without their lawyers present as they faced threats of criminal fraud charges if they didn't reach settlements.
Buenrostro did not comment on those complaints. She said authorities have been focused on income tax deductions promoted by advisers that frequently crossed into fraud. Lopez Obrador said at the press conference that advisers "without scruples dedicated themselves to robbing the people."
Deputy Finance Minister Gabriel Yorio told Bloomberg News in an interview this month that the tax crackdown was helping the government project a slight primary surplus this year. Just this month, BBVA Bancomer agreed to pay 3.2 billion pesos, and Walmart de Mexico SAB coughed up 8.1 billion pesos earlier this year in one of the biggest tax settlements in Mexico's history.
Earlier this year, Lopez Obrador said the SAT was targeting 15 big companies that owed 25 billion pesos. Buenrostro said eight of those businesses had paid up, four had agreed to start making payments, while one other was still being reviewed. Two of the cases had been sent to the Finance Ministry's tax prosecutor, she said.