Mexico Stocks Set for Worst Year Since 2008
(Bloomberg) -- Mexican shares are headed for their worst year since the 2008 financial crisis, dragged down by the electoral victory of a leftist president and tumultuous trade talks with the U.S. and Canada.
The country's benchmark IPC index tumbled 16 percent this year through Wednesday, the worst among major stock gauges in Latin America in local currency terms. Bellwethers Grupo Televisa SAB, Mexico's largest broadcaster, and Fomento Economico Mexicano SAB, a retail and bottling giant, are on track for their biggest declines since 2000.
President Andres Manuel Lopez Obrador's October decision to cancel a $13 billion airport rattled investors already on edge from the twists and turns of trade talks among the U.S., Mexico and Canada. There's still uncertainty over whether the new commercial pact, the successor to the North American Free Trade Agreement, will get through the U.S. House of Representatives after Democrats take control next month.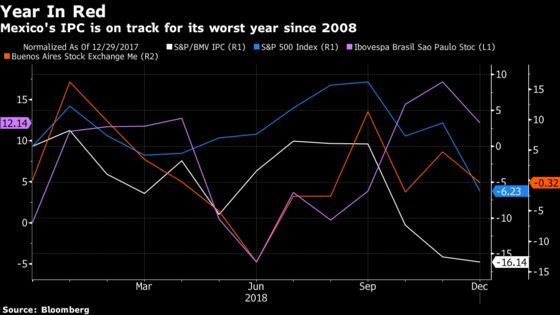 "Mexican businesses have been apprehensive about reinvesting in the economy amid uncertainty about domestic policies and also relations with the United States," said Morgan Harting, a senior portfolio manager at AllianceBernstein in New York. "That's not a great environment for equity markets."
The S&P 500 is also heading to its worst year since 2008, although its 6.2 percent fall this year through Wednesday is less pronounced than the Mexican index's tumble.
The IPC's slide "corresponds to an environment of uncertainty and risk related to a change of government and investors' negative perception," Intercam Casa de Bolsa said in a report led by Alejandra Marcos.
The stock gauge rose 0.2 percent at 8:34 a.m. in Mexico City.
The Mexican peso had its ups and downs this year and Lopez Obrador's airport decision pushed it to the biggest one-day drop since Donald Trump's election as U.S. president. But the currency is now Latin America's best performer against the dollar. In Brazil and Argentina, currency declines have eroded the returns of foreign investors.
Mexican stocks are getting a further drag from a big reduction in earnings growth, to an estimated 5.5 percent this year from about 33 percent last year, Harting said.
In a potential enticement for investors, a rebound is likely on that front. After posting one of this year's slowest rates of earnings growth in emerging-market countries, Mexico is expected to achieve one of the fastest paces next year, he said.
"If that type of acceleration comes through, I think you could see a meaningful rally," Harting said.