AMLO Denies Banxico Governor a New Term, Wants Social Focus
(Bloomberg) -- Mexico's President Andres Manuel Lopez Obrador ruled out a second term for central bank Governor Alejandro Diaz de Leon, potentially opening up a period of uncertainty for the traditionally conservative monetary authority.
The president, known as AMLO, said on Friday he will pick an economist with "a lot of prestige" and more attuned to Mexico's social needs to lead the bank when Diaz de Leon's term concludes at the end of the year. The Senate would need to ratify his choice.
"It's going to be an economist with a social dimension, one who is in favor of a moral economy," Lopez Obrador said in response to a question by Bloomberg News at his daily press conference. He refrained from naming a successor.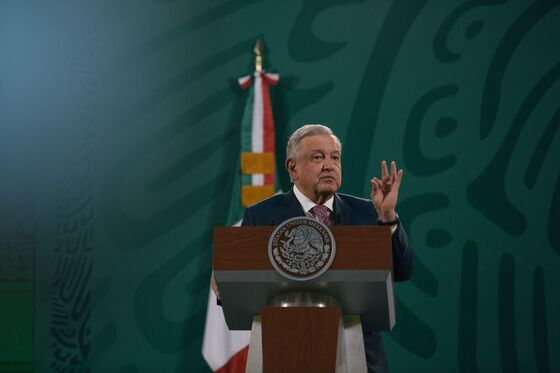 Although few expected Diaz de Leon to continue in his role, the president's mention of social issues suggests he wants to shift the traditionally hawkish outlook of Banxico, as the bank is known. AMLO has appointed three of the five members that form the board deciding on interest rates.
The president's comment "gives support to the side of Banxico's board that worries more about growth than inflation," said Carlos Capistran, an economist at Bank of America Corp. "It anticipates a governor that also puts more weight on growth and less weight on inflation than Diaz de Leon, potentially much less weight to inflation."
AMLO had been riled by the bank's failure to send a foreign exchange surplus to the government in April. He singled out Diaz de Leon for criticism on Thursday, alleging he had an affinity with members of the previous government.
Many economists and insiders expect Finance Minister Arturo Herrera to be named for the job. That would ease market concerns about losing the widely-respected Diaz de Leon, said Janneth Quiroz Zamora, an economist at Monex Casa de Bolsa.
"Herrera has shown himself to be a minister removed from political controversies and, on the occasions where he has spoken out, has leaned more in favor of a free market," she said. "Markets would be comfortable with him at the head of the central bank."