AMLO Pivots to Remote Work After Contracting Covid Again
(Bloomberg) -- Mexico's President Andres Manuel Lopez Obrador said he has mild symptoms and will work remotely after testing positive for Covid-19 and becoming one of few world leaders to contract the virus twice. 
"My voice is hoarse," AMLO, as the president is known, said during a video appearance on Tuesday. "A little bit of body aches at first, I'm taking paracetamol, and I feel pretty good."
The president measured his temperature and oxygen levels in the video, which was streamed live at his daily morning press briefing. His temperature was a normal 36.1 degrees Celsius and his oxygen level a healthy 96%, he said. Health Minister Jorge Alcocer said that AMLO could return to work next week if he's feeling better. 
"Although the symptoms are mild, I will remain in isolation and will only do office work and communicate virtually until I come out of this," AMLO said in a tweet. He will remain at the presidential palace, his spokesperson Jesus Ramirez told Bloomberg News.
On Monday morning the president said that he was feeling congested during his daily, in-person press conference but said it was likely just a cold and didn't wear a mask. He had met last week with Economy Minister Tatiana Clouthier, a few days before she tested positive for the virus.
AMLO is among very few leaders - including the presidents of Poland and Pakistan - to catch the virus twice. He is fully vaccinated with the AstraZeneca shot and received his booster from the same company in December. Lopez Obrador previously contracted Covid almost a year ago in late January 2021 and was out for about two weeks before returning to his morning press briefings Feb. 8.
The omicron variant is causing a sharp spike in cases in the country. Daily infections surged to a record on Saturday, surpassing 30,000 cases, but very low testing rates in Mexico means those numbers are likely much higher. The president has repeatedly downplayed the omicron variant and his administration has imposed no new measures to control the virus. 
Lopez Obrador, 68, suffered a heart attack in 2013, which he has said was caused by arterial hypertension.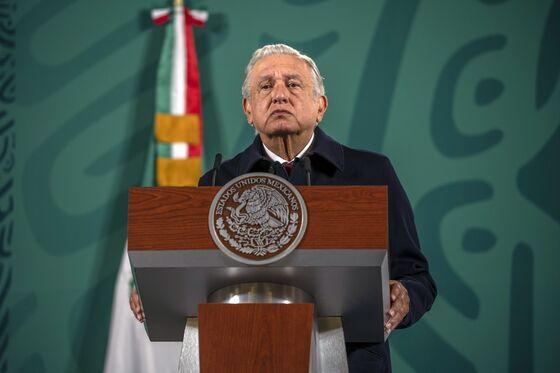 Interior Minister Adan Augusto Lopez took over the daily press briefings starting Tuesday. Mexico doesn't have a vice president, so Lopez would assume power for as many as 60 days if the president were to die, until lawmakers appoint an interim leader.
The Interior Minister acknowledged he'd been in contact with AMLO on Sunday, but that they had socially distanced and he was feeling fine. He said he may get a Covid test. Mexico's virus czar, Hugo Lopez-Gatell, said at the same event that those who get tested and are young with mild symptoms may impede others from receiving one amid shortages. 
It's unlikley that AMLO's popularity will be affected if he has a mild case of Covid, according to Carlos Petersen, senior analyst at Eurasia Group.
"Unless it becomes a serious illness this will be a wash," he said. "Lopez Obrador would then continue with the same messaging and policies regarding Covid, claiming this is a milder variant (which seems to be the case) thus no need to interfere with normal life."
Mexico has fully vaccinated 57% of its population, according to data compiled by Bloomberg. The country ranks fifth in the world for Covid-19 fatalities.