One in Five Coronavirus Cases in Mexico Are Health Workers
(Bloomberg) -- The coronavirus is devastating Mexico's medical community, with health-care workers making up more than 20% of all cases in the country.
A total of 20,217 doctors, nurses and medical staff have been diagnosed with Covid-19, an almost doubling from two weeks earlier, according to figures from Mexico's Health Ministry. Some 10,000 more health care personnel are suspected of having the respiratory illness caused by the virus.
The surge in cases is one more grim example of how the virus is rocking Latin America in ways unseen in the developed world. Doctors and nurses in Mexico say they lack the most basic of protective gear like masks and gloves -- even as factories known as maquiladores along the border with the U.S. pump out medical devices to ship north. In an Ecuador port town, bodies were left in the street after an explosion of cases earlier this year. And in Venezuela, some hospitals don't even have soap. All tolled, Latin America now accounts for 44% of new cases reported daily worldwide.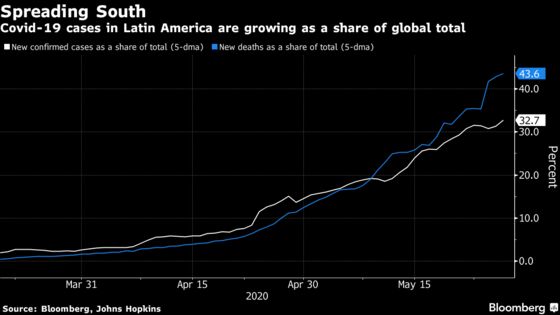 Mexico's Health Ministry on Tuesday reported 3,891 new cases, a daily record, for a total of 97,326. Among sick health workers, nurses account for more than 40%, with doctors making up about a third. As of Tuesday, 271 medical staff have died. That's almost as many as the 321 reported in the U.S., where there are 18 times more cases overall, although Mexico isn't testing at anything close to the same rate.
For Mexico's sick hospital staff, "the common denominator is that none of them have adequate protection to treat patients," said Gustavo Rojas, a cardiologist at Mexico City's Institute of Cardiology, which is treating sick doctors.
Mexico City has seen the highest number of cases among both medical workers and the general public, with hospitals now at 80% capacity. Meanwhile, protests are breaking out at several clinics in the capital and elsewhere.
Even so, Mexico's government has pressed on with opening its economy. President Andres Manuel Lopez Obrador is on a cross-country tour, and residents in Mexico City and the rest of the nation have started returning to the streets, amid mixed signals from the president and his health officials. Deputy Health Minister Hugo Lopez-Gatell in his nightly press conferences regularly implores Mexicans to stay home.
"The Covid epidemic is at its maximum level of intensity," Lopez Gatell said Tuesday evening.