Mexico Removes the Actual Jet From Its Presidential Jet Raffle
(Bloomberg) -- Mexico has taken the jet out of its Presidential Jet Raffle and will sell the aircraft in the normal way -- even as the game goes forward.
The contest will continue, but the plane itself won't be a prize. There will, however, be a picture of the jet on the tickets, President Andres Manuel Lopez Obrador told reporters Friday.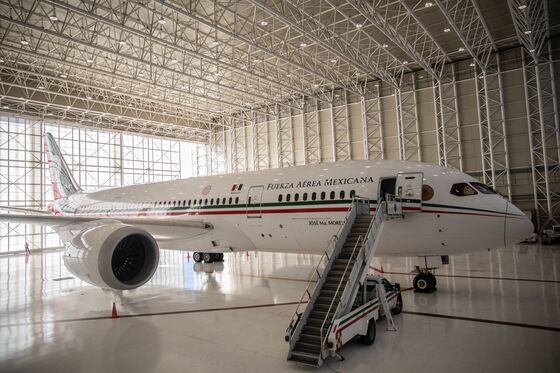 The government will sell 6 million tickets for 500 pesos ($27) each, with money earmarked for buying medical equipment and paying for maintenance on the presidential plane. The president universally known as AMLO has eschewed the aircraft, which has been depreciating in a California hangar over the past year as the country tried to find a buyer.
AMLO put the Boeing Dreamliner up for sale after his inauguration in December 2018. The president flies on commercial airlines, to symbolize a frugal style of government.
Lopez Obrador repeatedly criticized the purchase of the plane as too lavish for a country in which millions live in poverty. Mexico bought the plane in 2012 for more than $200 million. It is now worth about $130 million, according to a U.N. valuation.
In the new jetless Presidential Jet Raffle, as many as 100 people may win a 20 million peso ($1 million) cash prize, Lopez Obrador said. A used 1957 Piper Cub was available on eBay for $150,000 on Friday, so winners still stand a chance of going aloft.