Mexico Peso Tumbles to a Five-Month Low as AMLO Roils Markets
(Bloomberg) -- The Mexican peso hit a five-month low and local stocks tumbled for a second day Tuesday as the incoming administration of Andres Manuel Lopez Obrador roils markets just weeks before taking office.
The currency fell 0.4 percent, adding to yesterday's decline of 0.9 percent, while stocks tumbled to the lowest since February 2016. Benchmark dollar bond yields rose 4.3 basis points and credit default swap contracts climbed 4.2 basis points.
Lopez Obrador's decision to cancel a $13 billion, partially built airport project at the start of the month and a proposal from lawmakers to cut bank fees have sparked the biggest four-day decline in the stock index since 2008. Lopez Obrador has now proposed further referendums, adding to pressure on markets. The administration says that it will hold consultations over a new refinery, a train project and a pension plan by the end of the month.
New AMLO Referendum May Stir Long-Term Uncertainty: Citigroup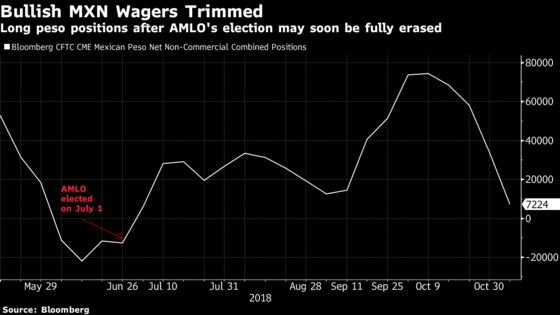 "The peso is getting hit today by a combination of factors," said Ilya Gofshteyn, a strategist at Standard Chartered in New York. "Ambiguous messaging surrounding the banking law and the potential for further referendums down the line on things like the train project and building out refining capacity is scaring markets."