Mexico Consumer Prices Rise Above Forecast, Pressing Banxico
(Bloomberg) -- Mexico's consumer prices rose more than expected in early October, remaining above the target ceiling and increasing pressure on the central bank to further raise interest rates through year-end.
Consumer prices rose 6.12% compared with a year earlier, the national statistics institute reported Friday. The increase was more than the 6.10% medium estimate of economists surveyed by Bloomberg. 
Core inflation, which excludes volatile items such as fuel, accelerated to 5.12% from a year ago, the fastest pace in the bi-weekly measurement since 2009. It was driven by costlier goods and services such as airfares amid the reopening of the Mexican economy. Non-core inflation reached 9.21%, pressured by a global shift toward higher energy prices.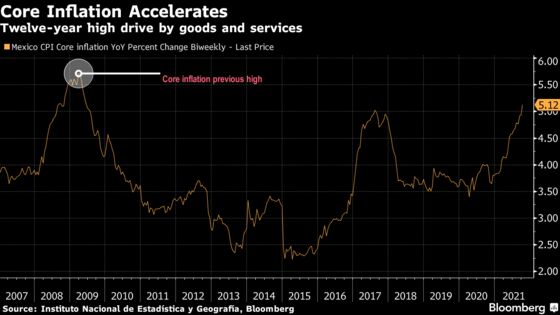 President Andres Manuel Lopez Obrador said global supply shortages and the heating of the U.S. economy have contributed to rising prices in Mexico. He added that, while Finance Ministry economists called them transitory, his government will seek to prevent further quickening. 
"We will make sure that inflation does not increase, because that affects people's pockets," he told reporters after the data was released. 
Read more: Mexico, Colombia Rate Increases Suggest More Tightening to Come
Mexico's annual inflation will reach 6.5% by year-end, according to the median estimate in a survey of economists by Citigroup Inc.'s local unit.
The upward revision in the latest survey comes on the heels of Banco de Mexico's third consecutive interest rate hike, in September, which brought borrowing costs to 4.75%. In the minutes of their last meeting, members of the five-person board pointed out that given the "variety, magnitude, and extended horizon" of shocks, they may pose a risk to the price formation process and inflation expectations.
Banxico, as the central bank is known, targets inflation at 3%, plus or minus one percentage point, and there has been debate among board members about whether the current price shocks are transitory. The three hikes since June were all by split votes. 
"People are feeling the increase in prices in everything they buy in the supermarket," said Valeria Moy, the head of the Mexican Institute for Competitiveness, a think tank.
Nikhil Sanghani, a Latin America economist at Capital Economics, wrote in a report that the bank would hike borrowing costs by another quarter-point in November, bringing the key rate to 5%. 
"With inflation set to remain stubbornly high, it's clear that Banxico's tightening cycle has further to run," Sanghani wrote. "The minutes revealed one Board member is considering stepping up the pace of tightening but, with the economy showing signs of weakness, we doubt there will be widespread support for this view."