Citi's Exit Triggers Damage Control in Crisis-Scarred Mexico
(Bloomberg) -- Citigroup Inc.'s plan to exit retail-banking operations in Mexico has pushed the government into damage-control mode to ease concerns in a country scarred by a financial crisis in the 1990s. 
Finance Minister Rogelio Ramirez de la O sought to tamp down any negative reading on the economy from the potential sale, and he said the government would seek to limit the closure of any branches.
"We want to send a message to account holders, to savers, that they can be confident that there won't be a loss of assets," Ramirez told Bloomberg News on Wednesday.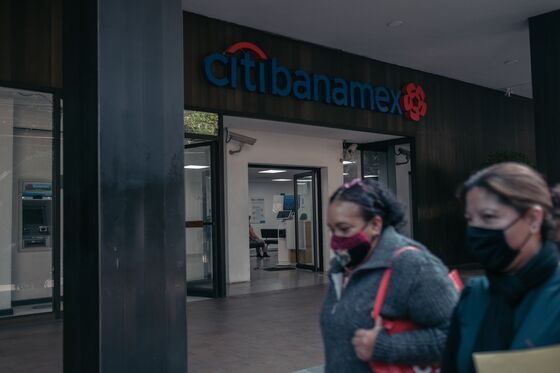 Banamex, or Banco Nacional de Mexico, was formed back in 1884 and it was the country's No. 2 bank when it was bought by Citi in 2001 amid a wave of acquisitions by foreign players of local banks that were devastated by the 1994-1995 "Tequila Crisis." 
Many Mexicans remember the bank failures that hit the country during the crisis. Some took to Twitter to comment on Citi's exit and wondered about the future of their savings and pensions. The head of the country's banking association ABM appeared on several top local media programs to tell Citibanamex clients that there was no reason to panic, whoever ends up taking control. 
Daniel Becker Feldman, ABM's president, told Bloomberg News on Thursday that there had been no sign of clients pulling money from Citibanamex branches. 
"The relevance of a brand as iconic as Banamex has generated speculation that does not obey reality," he said. "All Citibanamex users should be absolutely calm. This should not generate speculation about what may happen. These types of transactions happen all over the world."
Opponents of President Andres Manuel Lopez Obrador say Citi's move is the latest sign his nationalist policies are scaring off investors. Even though Citi's plan fits with the bank's global strategy of exiting off-shore consumer operations, it follows moves by UBS Group AG to close its Mexican brokerage and JPMorgan Chase & Co to shutter its local wealth business.  
Lopez Obrador appeared in a video message on Thursday as he recovered from his second bought with Covid, where he said he met with ministers about the Citibanamex sale and emphasized how he hopes the bank is bought by local investors like billionaires Ricardo Salinas Pliego or Carlos Slim.
Ramirez de la O, the finance minister, said the bank's decision to exit isn't related to the country's economy or its future, as some local media suggested, pointing to the fact that Citi will continue investing in Mexico, including building a new tower for its corporate banking headquarters. 
Citibanamex saw its market share whittled down to 12.9% of deposits from 22% in 2001, and is now the country's third biggest deposit-taking bank, CNBV data show.
In the aftermath of the Tequila Crisis, Mexico's banking sector became highly concentrated in the hands of mostly foreign-owned banks like Spain's Banco Bilbao Vizcaya Argentaria SA and Banco Santander SA as well as HSBC Holdings PLC and the Bank of Nova Scotia.
Ramirez de la O told Bloomberg he would seek to make sure any sale does not break antitrust rules in the industry.