Mexico Economy Slowed in Fourth Quarter Amid December Headwinds
(Bloomberg) -- Mexico's economy cooled in the fourth quarter slightly more than expected as December registered the lowest activity in nine months amid austerity measures after new President Andres Manuel Lopez Obrador took power.
Gross domestic product expanded 0.2 percent from the previous three months in seasonally adjusted terms, less than the preliminary figure of 0.3 percent published Jan. 30. From a year earlier, GDP expanded 1.7 percent, in line with expectations, the national statistics institute said in a preliminary report. Growth for the full year was 2.0 percent.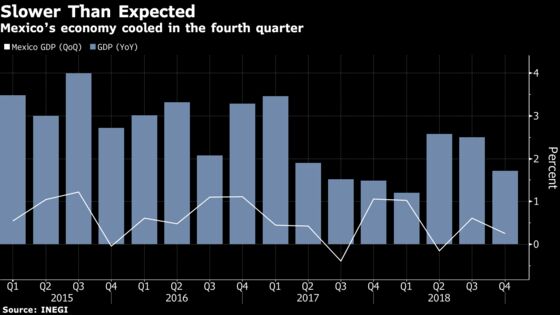 Latin America's second-largest economy is expected to slow to 1.7 percent this year from 2.1 percent in 2018 as U.S. growth decelerates, and uncertainty over Lopez Obrador's policies weigh on private investment. While his moderate 2019 budget triggered a currency rally, concerns over state-owned Petroleos Mexicanos, whose debt has soared in recent years, are damping growth forecasts.
Service sectors including commercial activity, transportation, financial and media grew 0.7 percent from the previous three months, according to the statistics institute. Agriculture, livestock and fishing industries expanded 2.2 percent. Industrial sectors including mining, construction and manufacturing fell 1.2 percent.
AMLO, as the president is known, shocked investors by ditching a $13 billion airport project in October, two months before taking office, sparking a rout in Mexican stocks, bonds and currency. While the peso has since rebounded, a two-notch downgrade of Pemex by Fitch Ratings last month has caused concern about contagion to the country's sovereign rating.
Bank of America cut its 2019 GDP forecast to 1 percent from 2 percent in mid-January, saying the economy faces a number of possible shocks.