Mexico's Economy Is Seen Picking Up After Second-Quarter Miss
(Bloomberg) -- Mexico's recovery is expected to strengthen later this year after second-quarter growth missed analyst estimates, as domestic demand withstands the pandemic and exports to the U.S. support manufacturing.
Gross domestic product rose 1.5% from the previous three-month period, less than the 1.8% median forecast in a Bloomberg survey. From a year ago, GDP grew by 19.7%, according to preliminary data from the national statistics institute published Friday.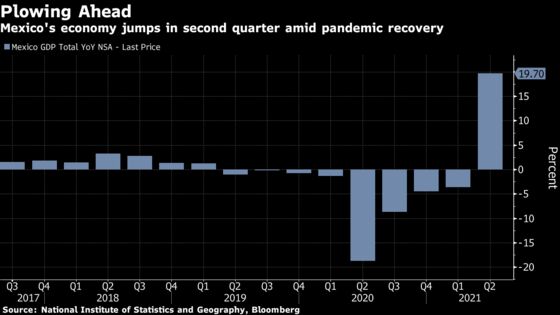 Latin America's second-largest economy has gained steam since earlier this year, spurred first by U.S. demand and later by domestic consumption, especially in the services sector. The central bank boosted the recovery by cutting its interest rate to a multi-year low before spiking inflation forced it to reverse course in June. Analysts in a Citi survey have raised their 2021 growth forecast steadily and now foresee 6% expansion.
What Bloomberg Economics Says

"Second-quarter growth figures signal domestic demand is recovering in Mexico and support our expectation for activity to continue its comeback this year. Headwinds from transitory shocks could remain a drag in 2H."

--Felipe Hernandez, Latin America economist

Read more here
Services grew 2.1% from the previous quarter, while agriculture expanded by 0.6% and manufacturing rose by 0.4%, according to the statistics institute. Mexico's economy was aided by the U.S. fiscal support that has helped manufacturing exports, remittances, and more recently, tourism, said Gabriel Casillas Olvera, chief economist at Grupo Financiero Banorte.
One point of concern was June's growth number, which central banker Jonathan Heath estimated at a negative 1.9%. That's ``not good news," he wrote on Twitter.
There is no shortage of challenges going forward. Economists expect more interest rate increases on the horizon, as above-target inflation curbs purchasing power. Complicating matters further, a third wave of the pandemic has also threatened some of the hard-won gains.
Read more: Mexico Central Banker Says Early July Inflation 'Definitely Bad'
Cases reached a six-month high this week, though officials have said inoculations are limiting deaths. Vaccine access has created a "two-speed recovery" with advanced economies pulling ahead of most emerging markets, central bank Governor Alejandro Diaz de Leon said on Wednesday.
Still, Mexican businesses and consumers have adapted to the pandemic. That trend means, in the unlikely event that new closures are required, they would only lower this year's growth forecasts by half of a percentage point, according to Pamela Diaz Loubet, an economist at BNP Paribas Mexico SA.
"Companies have adopted new methods to diversify their production chains," Diaz said. "They have a greater offering of products, and they've adopted new technologies and new digital platforms, which have made them more resilient."
For many analysts, growth will pick up regardless of a possible June slowdown. Oxford Economics raised its 2021 growth forecast to 6.5% from 6.2% on Friday, citing the services sector recovery. Rodolfo Navarrete, an economist at Vector Casa de Bolsa SA, said he would maintain his positive outlook for the same reason.
"Manufacturing has had problems for a while, since December, because of the shortage of semiconductors," Navarrete said. "What has saved us is the services sector."
Mexico's economy contracted by 8.2% in 2020, representing its worst downturn in nearly a century. This year, it's seen growing faster than the regional powerhouse of Brazil, though slower than Andean countries.
"The near term outlook for the Mexican economy as a whole remains positive," said Andres Abadia, chief Latin America economist at Pantheon Macroeconomics. "We still look for GDP growth of close to 6.5% this year, helped by favorable base effects and improving domestic fundamentals, assuming the vaccine roll-out improves and the virus remains under control."