Mexico Central Bank Corrects Meeting Minutes That Got Lost in Translation
(Bloomberg) -- Mexico's central bank on Thursday took the unprecedented step of correcting its meeting minutes after the accidental inclusion of a phrase in the English version that could have made analysts think the board would entertain an interest-rate cut.
At 9 a.m. in Mexico City, the bank released more than 20 pages of minutes from its Feb. 7 rate-setting meeting, when it left the rate on hold. In the English-language version, policy makers promised to take action "in whatever direction is required" -- implying they were open to reducing borrowing costs. No equivalent phrase appeared in the Spanish version.
Five hours later, the central bank sent out a press release correcting the English-language minutes. The board removed the phrase and replaced it with a promise to "take the necessary actions so that the reference rate is kept at a level consistent with the convergence of headline inflation to Banco de Mexico's target within the time frame in which monetary policy operates."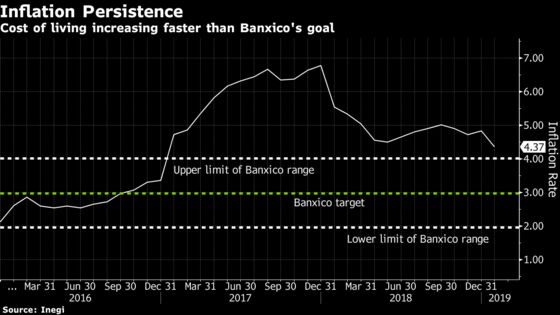 The error was due to a mistake in the process of translating the minutes, originally taken in Spanish, to English, according to the central bank's press office, which declined to comment further. The bank began publishing English-language minutes alongside the Spanish-language version after Governor Alejandro Diaz de Leon took over for Agustin Carstens in late 2017 as part of a broader effort to improve its communication and transparency.
In correcting the minutes, "they're trying to show they're not ready to send a dovish signal," said Marco Oviedo, chief Latin America economist at Barclays. "If they are implying that the door is open for any movement, that's implying the door is also open for cuts -- and I don't think that's their intention."
Analysts expect policy makers to leave the key rate on hold at a decade-high 8.25 percent until November, when they will begin to reduce borrowing costs, according to a survey published by Citigroup Inc.'s Mexico unit Wednesday. Inflation has been running above policy makers' 2 percent to 4 percent target range for more than two years, and in keeping the rate unchanged this month the board highlighted the risks from renewed exchange-rate weakness.