Mexico's Central Bank Boss Rebuffs Insinuation of Wrongdoing
(Bloomberg) -- Mexico's Central Bank Governor Alejandro Diaz de Leon defended himself against claims by President Andres Manuel Lopez Obrador that a development bank approved a suspicious loan while he was in charge.
Lopez Obrador seemed to take a swipe at Diaz de Leon earlier on Wednesday when calling for a probe into the $635 million purchase of a fertilizer plant by oil giant Petroleos Mexicanos. The president said that the deal - which the nation's comptroller found to be overpriced - was partly financed by loans from Bancomext when Diaz de Leon headed the state bank in 2016.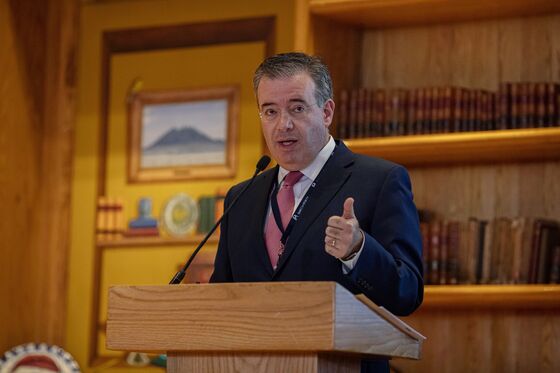 The rare insinuation of wrongdoing by the left-wing president directed at the governor of Banxico, as Mexico's central bank is known, opens up a new chapter of what's become a massive corruption scandal involving the state oil company known as Pemex. Prosecutors are investigating claims by a former Pemex chief, who is now a protected witness, that several former ministers and even ex-presidents were involved in bribery schemes with the company.
The autonomous central bank had been excluded from any allegations.
Asked by Bloomberg News about Lopez Obrador's comments, Diaz de Leon said at a press conference later on Wednesday that he joined the development bank a month after the loan was green-lit in October 2015.
"Those are things that were approved by the Bancomext governing body prior to my arrival at that institution," he said during a presentation of Banxico's quarterly inflation report. "I appreciate the question because it allows me to clarify this."
A chorus of leading figures in Mexican financial circles leaped to the governor's aid. BlackRock portfolio manager and former Mexican deputy finance minister Gerardo Rodriguez, economist Valeria Moy and Banorte's Gabriel Casillas all took to Twitter to mount a defense. Gerardo Esquivel, a Banxico board member who was tapped for his position by Lopez Obrador, called Diaz de Leon's explanation a "very important clarification."
"In all of Mexico, you won't find a more honorable official than the current governor of Banxico," BlackRock's Rodriguez wrote in a tweet.
Lopez Obrador, known as AMLO, didn't name the fertilizer plant when he raised the topic during his daily press conference, but his spokesman Jesus Ramirez later confirmed he was discussing Pemex's buyout of Grupo Fertinal. Amid wide-ranging investigations into the deal, Mexico's comptroller concluded last year that Pemex overpaid for Fertinal, which was $400 million in debt and behind on bills to suppliers.
Diaz de Leon's term ends next year but the government has the option to nominate him for six more years in the job. AMLO had repeatedly vowed to respect Banxico's autonomy.