Mexican Stocks Pushed to the Brink as Trade Tiff Roils Markets
(Bloomberg) -- Mexican stock investors are taking a particularly hard hit in Monday's trade-triggered global equity rout, with the nation's already beaten-down benchmark poised to break through a technical level that Monex's top chartist says could presage an even deeper drop.
The S&P/BMV IPC index sank as much as 1.8% in its fifth consecutive decline. The equity gauge, also known as the Mexbol, has slumped 13% from this year's high in April. Cement maker Cemex SAB, which derives more than three-quarters of its sales from abroad, led declines in Mexico City as global markets were roiled after China escalated the trade war with the U.S.
At the worst of it Monday, the Mexbol traded at its lowest intraday level since last November and was poised to close at its lowest in more than five-years.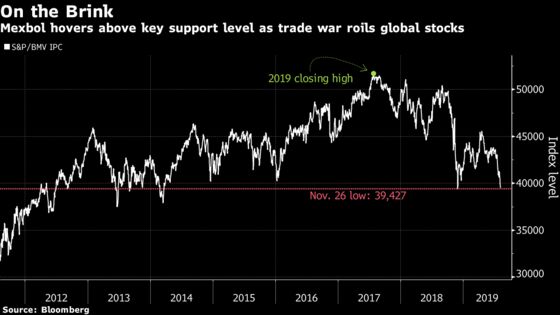 "The inertia is going to continue down," said Monex's senior technical analyst Juan Caudillo. If the Mexbol were to close below the November low, it could sink an additional 6% before finding support at around 37,000 points, he said.
From a fundamental standpoint, Mexican equities could see further pressure on concerns about slowing growth in Mexico and the economic policies of President Andres Manuel Lopez Obrador. Bank of America Merrill Lynch said more companies so far have missed second-quarter earnings estimates than have beaten them, which could lead analysts to reduce their expectations even further.