Mexican Stocks Hit Record High Backed by Calls From Citi, BofA
(Bloomberg) -- Mexican stocks climbed to a record on Wednesday, fueled by reports from Citigroup Inc. and Bank of America Corp. that highlighted the relative stability of the country amid volatility in other emerging markets. 
The benchmark S&P/BMV IPC stock index rose 1.7% to close at a record high of 53,951 points. Citigroup analysts led by Andres Cardona raised their targets for the benchmark in a note published Tuesday, where they said it would hit 57,000 points by mid-year and 60,000 by the end of 2022. That would mark a gain of around 11% by year-end from Wednesday's close.
"Mexico stands outs as one of the three top emerging markets along with Russia and Taiwan," Cardona said in the note. "While stock picking is always relevant, we see Mexico as an index story supported by earnings-per-share upwards revisions."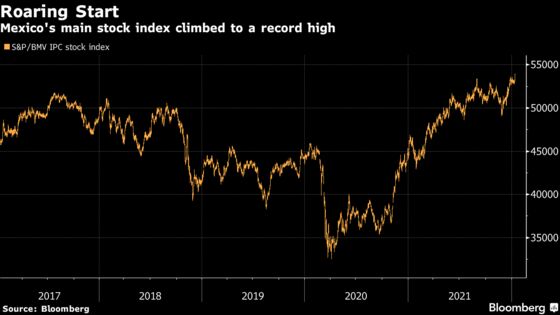 Earlier this week, Bank of America recommended an overweight allocation in Mexican stocks because of the nation's close link to the U.S. economy, a relatively sound fiscal outlook and an election schedule without a major national vote looming, unlike other major Latin American countries like Brazil and Colombia, where presidential races may add to volatility. 
"Mexico greatly outperformed in Latin America in 2021 and continues to stand out," analyst Carlos Peyrelongue said in a note published Jan. 10. 
The IPC index posted its best year since 2009 last year, with a nearly 21% gain despite a drought of new public offerings and concern about President Andres Manuel Lopez Obrador's nationalistic energy policies and his populist attacks on some members of the business elite. Lopez Obrador's commitment to fiscal austerity has helped underpin the peso and made the country a top pick for bond investors. 
READ MORE: Hottest Emerging Bond Issuer Just Wowed Investors Again
Sector-wise, Bank of America favors banks, cement and consumer stocks. Citi's top picks include bank Grupo Financiero Banorte SAB, bottler and convenience store operator Fomento Economico Mexicano SAB and restaurant operator Alsea SAB.