Mexican President Vows to Defend Tequila Against Foreign Brands
(Bloomberg) -- Mexican President Andres Manuel Lopez Obrador promised to defend the tequila industry when asked Wednesday about a long-running controversy over a tequila-flavored beer from Dutch giant Heineken NV.
"We have to protect the fruit of the work and efforts and traditions of our people," Lopez Obrador said at a daily press conference. "We have to defend the origin of tequila and mezcal and other authentically Mexican goods."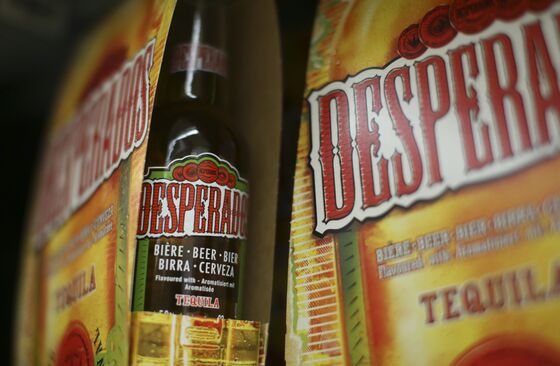 Mexico's Tequila Regulatory Council has for years insisted that Heineken's Desperados beverage, which is advertised as "the world's first tequila-flavored beer," doesn't actually contain tequila. The industry group says Heineken's product violates the designation of origin protection that tequila holds alongside products like France's champagne.
Heineken has used genuine Mexican tequila in its flavors for 25 years and complies with European Union labeling requirements, the company said in response to questions by Bloomberg News.
An Amsterdam appeals court is hearing a case brought by the Tequila council, the company said, declining to comment further before a decision is reached.
Lopez Obrador said he had heard that the Economy Ministry, which oversees trade issues, has a file open on the case, but said he would check with its head, Tatiana Clouthier.
The Desperados website says the company "rewrote the rules" of brewing 20 years ago and "dared to brew beer with tequila to create a beer born refreshing and wild."
Heineken isn't the only brand capitalizing on the popularity of agave-based drinks. Los Angeles-based Revel Spirits, founded by two Americans, has begun making an agave drink called avila with similar ingredients and techniques as those used to produce tequila and mezcal. Amid the sustained rise in popularity, international companies have increasingly added agave-based spirits to their portfolio in recent years.
Heineken is the owner of Mexican beer brands including Sol, Tecate and Indio, which it acquired in a 2010 deal with Fomento Economico Mexicano SAB.