Mexican Peso Strengthens on Optimism Over USMCA Trade Deal
(Bloomberg) -- Mexico's peso led emerging-market gains on growing optimism that approval is close for USMCA, the trilateral trade accord to replace Nafta.
Latin America's most-traded currency rose 0.4% to a three-week high of 19.23 to the dollar after President Andres Manuel Lopez Obrador said the trade pact can be approved soon and people familiar with the negotiations said the Trump administration and House Democrats are on the verge of announcing a handshake deal. It has key support from AFL-CIO President Richard Trumka, the Washington Post said.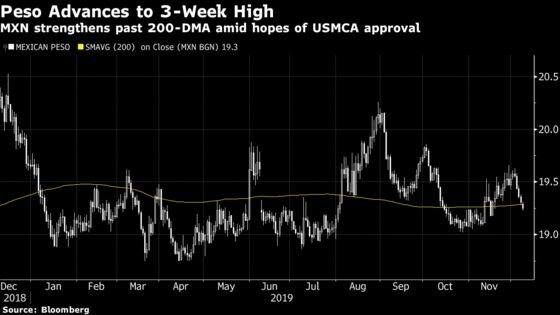 "A ratification of the USMCA in the United States can allow an appreciation of the Mexican peso to levels between 19.00 and 19.10 per dollar," said Jesus Lopez, a strategist at Banco Base in Monterrey. The peso hasn't reached 19 since July, and a gain to that level would represent a 1.2% increase.
The USMCA deal, which was negotiated under President Donald Trump, had run into opposition in the U.S. over Democrats' demands for stronger labor protection. In Mexico, the Senate is ready to approve the needed changes, according to majority leader Ricardo Monreal.
"Union leadership has been the main obstacle to passage on the U.S. side," said Ilya Gofshteyn, a strategist at Standard Chartered in New York, who says an agreement is largely priced in already. "Trumka sounding a more positive tone suggests that the sides are indeed very close at this point."