Mexican Markets Brace for Likely Recession as August Cut in Play
(Bloomberg) -- Economic data in Mexico this week will all but certainly show the nation fell into recession, tipping the scales on market bets for an interest rate cut by the central bank as soon as August.
Mexico's TIIE swap curve has already priced in at least a 25 basis point reduction in three months. That suggests that Banxico, as the central bank is known, will start easing either on Aug. 15 or Sept. 26. As economists scale back their growth estimates ever more and the U.S. Federal Reserve prepares for an anticipated cut of its own this week, pressure is building for authorities to move next month.
The median estimate of 11 analysts surveyed by Bloomberg points to a 0.1% contraction in Mexico's second quarter gross domestic product, marking the second quarterly dip and confirming the nation slipped into recession. The data is due on Wednesday. While Citigroup Inc.'s chief Mexico economist, Sergio Luna, expects Banxico to deliver its first rate cut in September, "a potential rate cut by the Fed and further negative news on the activity front mean an August cut is in play."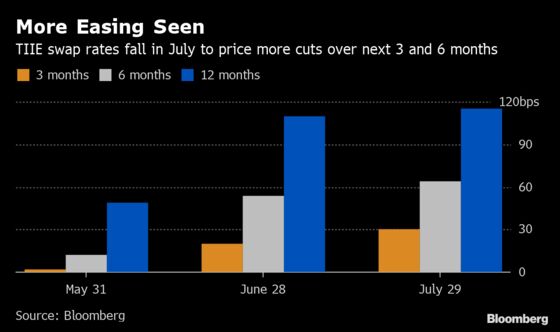 Capital Economics may be the most dovish forecaster. The research firm says Mexico's economy is "extremely weak" and expects a 25 basis point cut in August after Banxico held rates at an all-time high of 8.25% since December.
"Whether GDP growth is negative or not misses the point that the economy has hardly grown at all over the last 18 months," William Jackson, the firm's London-based chief emerging-markets economist, wrote in a note. "Weak growth, falling inflation and a dovish shift on Banxico's board means we expect a 25 basis-point cut."
Others are more sanguine. While confirmation of a recession would suggest "the economy is truly stagnant," Banxico will probably still hold off on a cut until September, even as pressure to do so increases, said Alvaro Mollica, a strategist at XP Investments in New York who is the top overnight rate forecaster for Mexico, according to Bloomberg rankings.
For now, persistently high core inflation looms large. While Mexico's headline annual inflation rate fell to the lowest in more than two years in mid-July, core prices rose 3.81% from a year earlier, near the upper bound of central bank's 2%-4% inflation target range.
Yet market expectations of eventual rate cuts are so strong that growth concern may eventually overcome inflation worries.
"Obviously Banxico has not been happy about sticky core inflation, but ultimately growth considerations will be influential," said Edwin Gutierrez, who heads of emerging-market sovereign debt at Aberdeen Asset Management in London. "Naturally guys like us, who've been waiting for the Banxico cycle to start, get excited."
An early rate cut would be just fine for Mexican President Andres Manuel Lopez Obrador, who also says he respects the central bank's freedom to set rates independently.
"The Bank of Mexico is watching over inflation. That's not bad," Lopez Obrador told Bloomberg Editor-in-Chief John Micklethwait in a Mexico City interview on Monday. "But it's important to lower rates to kickstart the economy."