Mester Says No Rate Hike 'Any Time Soon,' Watching Inflation
(Bloomberg) -- U.S. interest-rate hikes are not coming "any time soon" according to Cleveland Federal Reserve President Loretta Mester, though U.S. central bankers will act if inflation expectations became unmoored.
"The thought about raising interest rates is not a near-term consideration at all," she told CNBC television in an interview Wednesday. "We're going to think about the decision coming up, which is about the asset purchases, and then as those wind down we'll have time to assess where the economy is."
Officials favored starting to scale back their bond buying as soon as next month and end the process around the middle of 2022, according to minutes of their Sept. 21-22 meeting. Projections provided by officials for the meeting showed them evenly split on whether increases in the Fed's benchmark interest rate, which is currently near zero, would be necessary next year.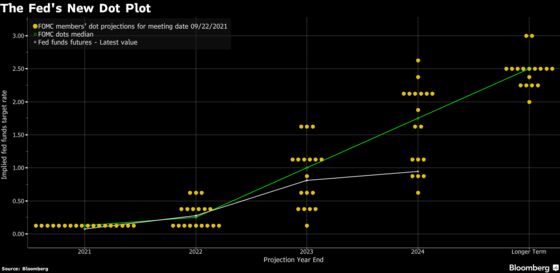 "I don't think that interest rate hikes are coming any time soon because I don't think we'll reach our goals which are maximum employment and inflation at and above 2% for some time," Mester said.
She did back the Fed starting to taper and said that if inflation failed to abate next year as expected, policy may have to react.
"So far the medium-run inflation expectations and longer-run inflation expectations are still at levels consistent with our 2% inflation goal," she said. "We don't want to get into a situation where they continue to move up because that would be a signal that we may have to do an adjustment."
That lined up with Fed Governor Randal Quarles who said earlier Wednesday that he'd support a decision to taper next month and that if inflation continued to come in too high, earlier hikes may be needed.
"If we are still seeing 4% inflation or in that area next spring, then I think we might have to reassess the speed with which we would be thinking about raising interest rates," he said.