Merkel Pledges to Ramp Up German Covid Vaccinations in April
(Bloomberg) -- Chancellor Angela Merkel said Germany will accelerate its Covid-19 vaccination drive, seeking to recover from the temporary halt of AstraZeneca Plc's shot over blood-clot concerns.
With Europe facing a virus resurgence from France to Czech Republic, Merkel laid out a vista of getting a grip on the crisis while signaling Germany may need to roll back some of its earlier lockdown easing. Three available vaccines and the expected arrival of a Johnson & Johnson shot will help, she said.
"Starting in April, we want to get faster and more flexible, and we will be able to do that," Merkel told reporters in Berlin on Friday after talks with German state leaders. "We want to complement proverbial German thoroughness with increased flexibility."
Like many of her European peers, Merkel is facing challenges on multiple fronts. For now, she's caught between the European Union's vaccine woes, public discontent over her pandemic response and a resurgence in cases after Germany eased lockdown restrictions. Support for her governing party bloc fell to the lowest in a year in a poll this week.
On Monday, Merkel and state leaders will discuss whether restrictions in Europe's largest economy should be extended into April or even tightened, rather than eased as suggested by the government at the start of the month. Germany's Covid-19 cases rose by the most in two months on Thursday.
"We are seeing exponential growth" in cases, Merkel said Friday. "We will unfortunately have to make use of the emergency brake."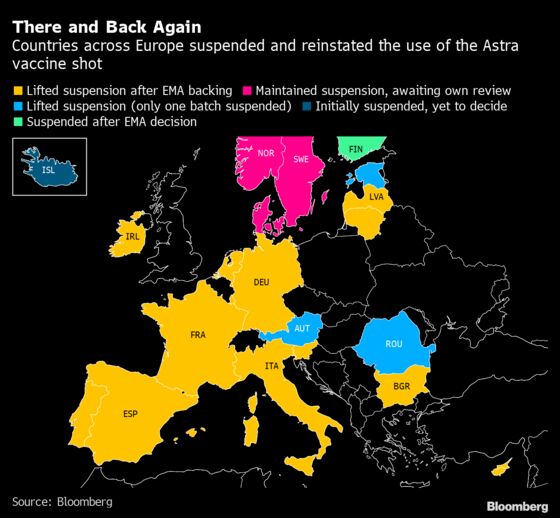 Europe's effort to speed up its Covid-19 vaccination campaign is facing the challenge of restoring public trust after a chaotic week of vaccine suspensions, health scares and export-ban threats.
EU officials are trying to look ahead to the second quarter, when vaccine deliveries are expected to pick up rapidly. On Thursday, the EU's drug regulator gave the all-clear for the AstraZeneca shot after reports linked it to blood clots in a small number of patients.
"Anytime you roll out a vaccine like this to millions and millions of people, there's going to be coincidental and other events happening in parallel in the rollout," World Health Organization senior adviser Bruce Aylward told reporters Friday.
"What the populations are generally looking for is that these get properly assessed, so that their confidence can be assured," he said.
Merkel addressed the question of public trust in vaccines on Friday, saying she's ready to take the AstraZeneca shot.
Russia's Sputnik vaccine also is an option if it were to be approved by the European Medicines Agency, Merkel said. While a joint European order from Russia would be preferable, "we would have to go a German way on our own" if necessary, she said.
While a decline in the German pace of infections has reversed in March, the country still has fewer per-capita cases than countries such as Italy and France, where a renewed four-week lockdown in Paris and some other regions began Friday.
Health Minister Jens Spahn, who is facing opposition calls to resign, said earlier Friday that Germany is in a "third wave" of Covid-19 with a large number of variant-virus cases.
"There are some fairly challenging weeks ahead of us," he said.
Measures to ramp up Germany's immunization drive include allowing German doctor's offices to start AstraZeneca vaccines on April 6, Merkel said. Overall, the plan calls for vaccination options to gradually expand to include doctors as well as existing vaccine centers.
"The slogan is: vaccinate, vaccinate, vaccinate," Merkel said.