Merkel Weighs Tougher German Lockdown as Cases Exceed 2 Million
(Bloomberg) -- A record number of coronavirus deaths in Germany underscored the urgency facing Angela Merkel as the chancellor seeks to tighten lockdown restrictions.
The German leader is working to reach a consensus with state premiers on additional curbs amid fears that a more contagious variant may cause infections to spiral out of control, a government official said. A meeting to review pandemic measures, which was slated for Jan. 25, was moved forward to Tuesday, according to her spokesman Steffen Seibert.
Governments across Europe are trying to combat a fast-spreading strain of the virus that jumped from the U.K. to Ireland, causing one of the world's worst outbreaks.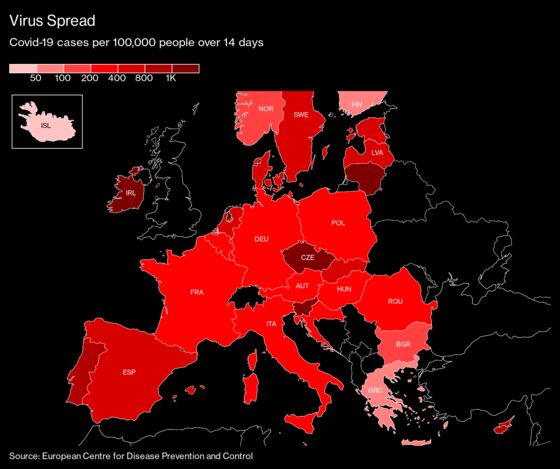 France expanded a daily 12-hour curfew nationwide starting Saturday and is seeking to accelerate vaccinations, which will still take months to make a tangible impact. In Spain, regions are toughening rules for gatherings, traveling and restaurant opening times.
Europe has emerged as a global hot spot for the disease, with more than 400,000 fatalities and nearly 17 million infections. The bloc started vaccinations at the end of December, weeks later than the U.S. and the U.K.
The region's leaders are on high alert after Ireland's cases rose to about 8,000 a day from about 300. Scientists estimate that about 45% of Irish cases are linked to the new variant.
Germany marked a grim milestone on Friday, with its death toll rising by more than 1,500 for the first time since the start of the pandemic. The country's Covid-19 fatalities have almost tripled since the end of November and now total more than 45,000, according to Johns Hopkins University data.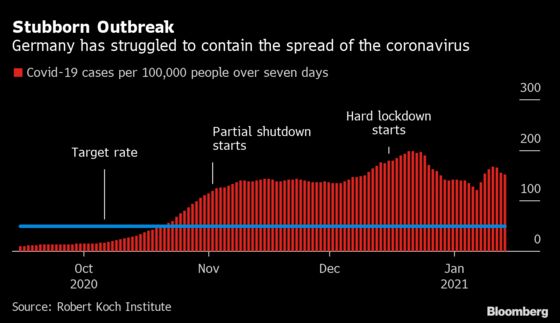 The leaders of Germany's 16 states need to agree on public-health measures under the country's federal system, and Merkel is seeking common ground before the meeting, said the person, who asked not to be identified discussing private deliberations. Germany's cabinet-level corona task force will meet on Monday, according to Seibert.
The new curbs may include curfews, and the complete shutdown of all schools and public transport, Bild newspaper reported Thursday, without identifying the source of its information.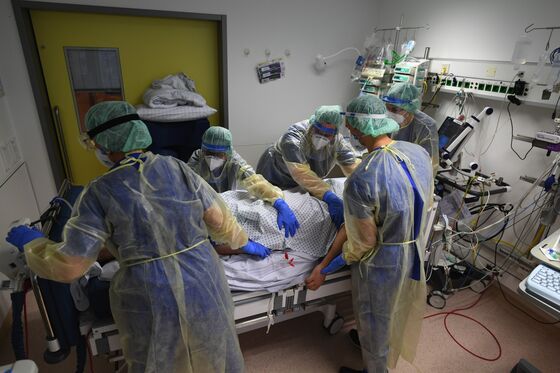 "Obviously if the danger for us is so great -- we're seeing what's happening right now in Ireland -- we'll take further measures," Malu Dreyer, premier of the state of Rhineland-Palatinate, said Friday in an interview with ZDF television. Pressed about what additional steps may be taken, she said it's too early for specifics and officials need to look first at whether the current shutdown is working.
Despite weeks of increasingly stringent restrictions, Germany's contagion rate remains about three times higher than a government target. The total number of infections has doubled since the end of November, passing 2 million on Thursday. There were 34,222 new cases in the 24 hours through Friday morning, according to JHU.
Hospitals in some German states are running out of intensive-care beds, even before the new strains become widely established, according to the Robert Koch Institute, the country's public-health agency.
The tightest situation is in Berlin, with just 10.9% available ICU capacity, with Baden-Wuerttemberg and Bavaria also running low on intensive-care beds, according to DIVI-Intensivregister. Only two states have more than 20% spare capacity.
Polls suggest a majority of Germans back the government's current virus measures. A survey for ZDF television published Friday showed that 51% think the restrictions are appropriate, up 16 points compared with the beginning of December. Just under 30% believe they should be tightened, down 21 points, and 18% think they are excessive, up five points.
"We must do something" and "mobilize forces" to stop new variants from spreading in Germany, Bild quoted Merkel as telling party colleagues.