Merkel Advisers Cut German Growth Forecast, Warn on Recovery
(Bloomberg) -- Germany's economy will grow less than expected this year and the recovery could be jeopardized by a renewed spike in Covid-19 infections, according to Chancellor Angela Merkel's panel of economic advisers.
Europe's biggest economy will expand by 3.1% in 2021, the panel predicted Wednesday, trimming a forecast of 3.7% published in November. Next year, they expect growth to accelerate to 4%, underpinned by a pickup in consumer spending and strong demand for German exports, but warned that rising coronavirus cases are a significant threat.
"The greatest risk for the German economy is a possible third wave of infections, if it would lead to restrictions or even closures in manufacturing," Volker Wieland, a member of the panel, said in an emailed statement.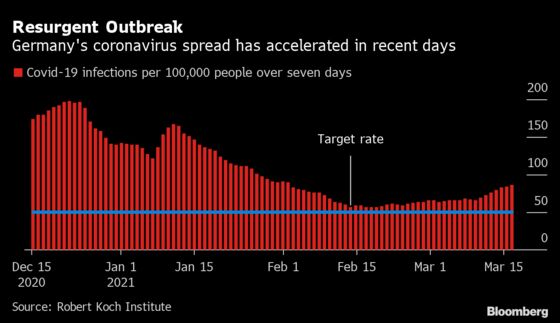 The German economy's prospects have deteriorated in recent weeks, with the nation experiencing an increase in virus cases and more problems with rolling out vaccines. That could delay an easing of restrictions and prompt the government to extend the current curbs into next month.
The latest vaccine controversy involves safety concerns around AstraZeneca Plc's shot, with several countries suspending its use, against the advice of the European Union's regulator.
Another member of Merkel's advisory panel, Achim Truger, said that once Germany irons out the snags in its inoculation campaign, sectors hit by restrictions -- including stores, hotels and restaurants -- should contribute to stronger growth.
Germany has weathered the latest wave of the pandemic better than other nations thanks to its reliance on manufacturing and generous government stimulus. While most shops have been shuttered since December and are only gradually reopening, factories have continued to operate.
Bundesbank President Jens Weidmann has said that Germany is "sufficiently resilient to cope" and a recovery would "arguably only be postponed." The central bank predicted in December that output will expand by 3% this year -- in line with the government's forecast -- following a shallower-than-expected 2020 slump.
Investor confidence in the outlook improved this month, according to the ZEW institute, after the government laid out a path toward ending the lockdown in an effort to offer businesses more planning certainty.
However, Merkel and regional leaders may decide to extend restrictions and postpone a cautious lifting of some curbs when they hold talks on Monday, with Germany's Covid-19 incidence rate climbing steadily again.
After a 5% contraction in the economy in 2020, Merkel's advisers expect a return to pre-pandemic levels at the turn of the year.
"Industrial production in particular is pointing upwards," they wrote. "In contrast to last spring, international supply chains have so far remained largely intact, and the demand for goods from Germany is increasing as the global economy continues to recover."