Merck Deal's 300 Percent Premium Fell Short of Most Bullish Hope
(Bloomberg) -- Even at a 300 percent premium, Merck & Co.'s deal to buy Immune Design Corp. still managed to miss at least two sell-side analysts' most bullish outlooks for the small-cap drugmaker.
As news of the announcement caused Immune Design shares to more than quadruple to briefly top the deal price of $5.85 in trading before the U.S. market open, a pair of the company's biggest bulls may have been left craving still more. RBC Capital Markets analyst Brian Abrahams, the stock's biggest sell-side bull, carried a $9 target price at the time of the announcement while HC Wainwright's Joseph Pantginis applied a $7.75 target.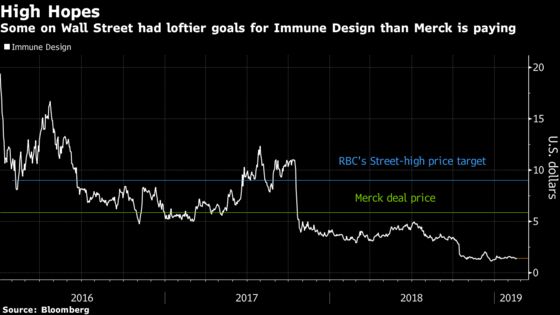 Those bullish hopes stood in contrast to a consensus 12-month target of $4.85 a share, a view that implied a 242 percent return from Wednesday's close. However, it's worth noting that the Merck deal price comes in at a fraction of Immune's peak back in 2014, when it topped $36.
The takeout surprised the biotech community as Immune Design had largely been left for dead after a pair of developmental hiccups at the end of last year. The stock had fallen 58 percent in the past 12 months prior to today's announcement. However, another takeout of a small-cap drugmaker may re-ignite some hopes that the red-hot start to the year in biotech deals might pick back up.