Men Still Outnumber Women 2-to-1 as Speakers at Conferences
(Bloomberg) -- Even after a year of focus on gender balance and the harassment of women in the workplace, the era of "manels" -- male-dominated panels and speakers -- at conferences and events shows no sign of waning.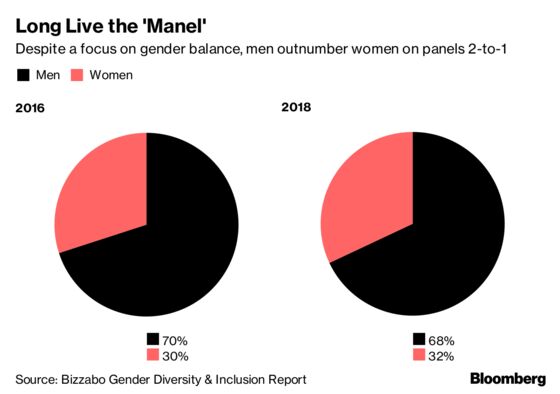 Men made up 68 percent of the speakers at conferences, trade shows, marketing events and other gatherings this year, a scant improvement from 70 percent two years ago, according to an analysis by Bizzabo. The event software company analyzed 60,000 speakers at thousands of events over five years in 23 countries, according to Alon Alroy, Bizzabo co-founder.
"I definitely feel as if awareness is getting better and we see more examples of both speakers demanding that the panel they participate in is more diverse and also from the organizing side to begin with, to create diverse panels," Alroy said. "I am optimistic in terms of the future, but having said that, the data at the moment is definitely not diverse enough looking at the past couple of years."
Events focused on education were the only venues where women exceeded 40 percent of speakers. Those centered on telecom and venture capital had fewer than 20 percent female speakers, according to the Bizzabo analysis.