Meme Stocks Get Caught in Risk-Off Plunge to Snap Hot Streak
(Bloomberg) -- A sharp four-day rally for a basket of retail trader favorites came to a halt on Wednesday when a technology-led selloff rippled through markets as investors shunned riskier assets such as cryptocurrencies.
AMC Entertainment Holdings Inc., the world's largest movie-theater chain, and swimwear manufacturer Naked Brand Group led the declines among so-called meme stocks. The pair were among the largest drags for a Bloomberg basket of such stocks, which slumped as much as 2.8%.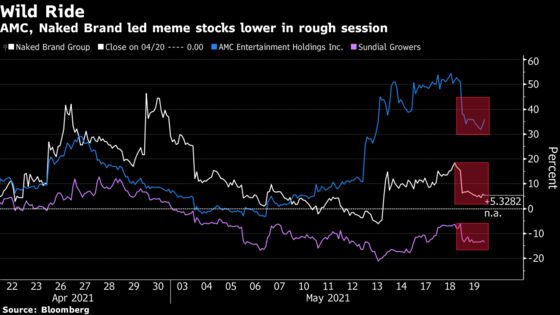 AMC, which had been riding its longest winning streak since 2018, stumbled 9.9% as trading volume eased after four consecutive days with more than 150 million shares changing hands. Other favorites from retail-traders like Sundial Growers Inc., Express Inc. and GameStop Corp. also fell.
The rallies for companies being touted on social media platforms like Twitter and Reddit had come alongside massive gains for cryptocurrencies. However, Wednesday's rout served as a reminder for hordes of retail traders of the higher volatility associated with riskier assets.
"The psychology of trading suggests some of these traders are capitulating and getting 100% out of everything," Edward Moya, senior market analyst at Oanda Corp., said in a message. "Panic selling is contagious and could lead to the waving of the white flag for some retail traders."
The basket of meme stocks had been riding a hot streak as retail investors flooded chatrooms and social-media platforms trying again to pump up their latest bets. For AMC, #AMCSqueeze trended on Twitter over the last ten days, and Reddit users cheered each other on as the company's chief executive officer said internet traders have given him more confidence for the year. The company surged 56% over an eight session stretch.
"Our general sense is that that retail, day-trading bit has been on the wane over the last couple of months," said David Donabedian, chief investment officer of CIBC Private Wealth Management. "I think it has probably peaked. I think people are going to be gradually going back to work, back to the office. I think that is mostly a spent force."