Melbourne Eases Lockdown Restrictions as Covid Cluster Contained
(Bloomberg) -- Melbourne's two-week lockdown will ease as authorities in Australia's second-most populous city bring a Covid-19 cluster under control.
The city's stay-at-home order will lift from Friday, Victoria state Acting Premier James Merlino told reporters on Wednesday. Retail stores and schools will re-open and outdoor gatherings will be allowed with a maximum of 10 people.
"This is a good day," Merlino said, adding the state is on track to announce a further easing of restrictions next week. "Everyone should be absolutely proud of what we have all achieved together."
The announcement will be welcomed by the city's 5 million people, who have been forced into lockdown four times since the pandemic began for a total period of more than 140 days. That's played havoc with tourism and retail industries, as other states and territories have banned travel to and from Victoria.
Melbourne has become a symbol of Australia's zero-tolerance approach to Covid-19 cases within the community, which risks making the nation increasingly isolated amid a slow vaccine rollout as other parts of the world open up.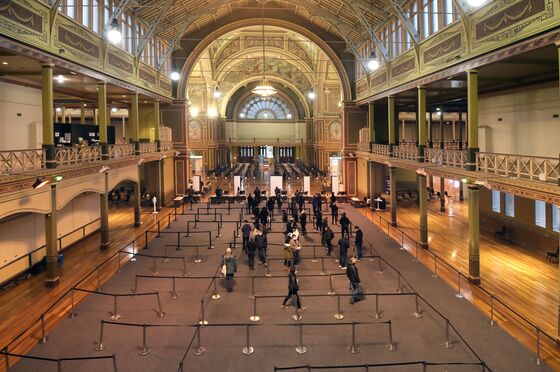 Since Prime Minister Scott Morrison ordered international borders to be closed in March last year, Australia has sought to eliminate clusters through a regime of localized lockdowns, vigorous testing and vigilant contact-tracing measures. That strategy has come under increasing pressure due to leaks of the virus into the community from hotels used to quarantine Australians returning from overseas.
The main opposition Labor party, which has accused Morrison's government of botching the nation's quarantine system by balking at financing purpose-built facilities as well as failing to sign enough contracts to secure adequate vaccine doses, says there have been at least 17 breaches of the virus from hotels in the past six months.
Other restrictions to be eased starting Friday include people being allowed to travel up to 25 kilometers from their home, up from a 10-kilometer limit. While masks will still need to be worn indoors, they generally won't be mandatory outdoors.
Dance studios, gyms, amusement parks, night clubs and similar businesses will remain closed for now, Merlino said.
Victoria recorded one new Covid-19 case in the previous 24 hours, and has a total of 68 cases linked to the current cluster, Merlino said.
"We know this isn't over yet, and until we have widespread vaccination across Victoria and across our country, the virus will still be with us," Merlino said. "We can't let complacency creep in."