Media Stocks Are Taking a Beating, Too
(Bloomberg Opinion) -- Looking for a place to ride out the stock market's autumn gyrations? Forget shares of media companies. 
The S&P 500 index has been on a mostly dip-filled ride since early October for all sorts of reasons, the main discernible ones being the ongoing trade war and tensions with China, where the economy is now showing signs of a slowdown. There are also concerns over weakening oil prices, rising interest rates, the strengthening dollar, and whether earnings have maxed out for American manufacturing and industrial companies. 
But what's interesting is that pretty much none of this relates to the U.S. media sector. As long as the economy is largely holding up, the media world should be fairly insulated from those other matters because content producers and distributors — a broad group that includes AT&T Inc., Dish Network Corp., Netflix Inc. and Viacom Inc. — don't make physical goods or derive much of their sales abroad. Yet media-related stocks are taking a beating along with everything else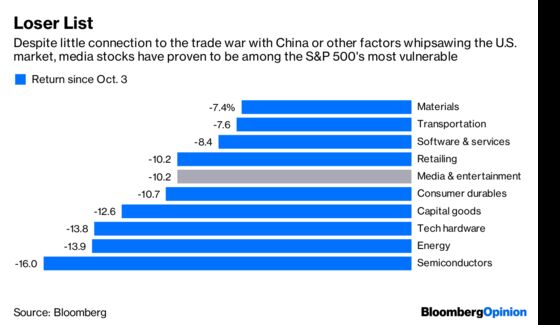 This is worrisome because it reveals just how vulnerable the sector is. And if that's the case now, following years of conglomerate-building that delivered scale and pricing power, then what does the space look like as consumers start to push back on prices for TV-viewing offerings — or worse, in an economic downturn?
On the face of it, the media industry is making the best of the cord-cutting problem by developing new video-streaming services to reinforce their brand relationships with customers, while also milking their legacy businesses as much as possible to sustain profits. However, that balancing act isn't quite so simple — just look at the recent earnings reports from Disney and AT&T. There's no hiding from the fact that Netflix has fundamentally changed how consumers think about the cost of media entertainment, and Netflix has only been able to achieve this thanks to a yield-hungry debt market. Now, the other media giants are under pressure to copy it by pursuing unprofitable services and going deeper into debt for mergers and acquisitions.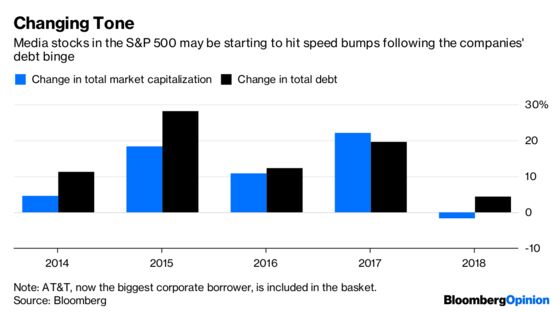 Investors are starting to come to grips with the prospect that there are severe flaws in the new strategies being employed by these iconic media companies. A sector that might perhaps normally be thought of as a haven from the trade war and other macroeconomic headaches is instead dealing with deeper, long-term problems of its own. 
This column does not necessarily reflect the opinion of the editorial board or Bloomberg LP and its owners.
Tara Lachapelle is a Bloomberg Opinion columnist covering deals, Berkshire Hathaway Inc., media and telecommunications. She previously wrote an M&A column for Bloomberg News.