McDonald's Internal Growth Target Tops Wall Street's Views
(Bloomberg) -- McDonald's Corp.'s new chief executive officer just gave Wall Street some welcome relief after a surprise leadership overhaul over the weekend left investors on edge.
The restaurant chain is targeting comparable sales growth of 4% in the U.S. next year, according to a video distributed to the company's franchisees and viewed by Bloomberg News. That would be above analysts' average growth projection of 3.4%, according to Bloomberg MODL. The company also plans to achieve flat customer traffic, a key target after recent challenges getting customers in the door.
"While we're pretty happy right now, we're not satisfied. That's the best time for us to go after guest counts," Chris Kempczinski, who took over as CEO from Steve Easterbrook this week, said in the video to store operators. "We have the benefit of being thoughtful and purposeful about growth because our system is in a really good place. As the old adage says the best time to fix a leaky roof is when it's sunny outside."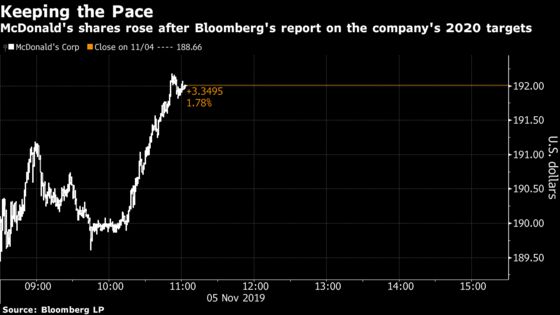 McDonald's shares climbed on the news, rising as much as 2.1% to a session high in New York trading.
In an emailed statement, McDonald's declined to comment on the video. The company expects to discuss its 2020 financial outlook early next year.
The rate of 4% comparable-sales growth in the U.S. would likely be below this year's pace -- the company has averaged 5% over the first three quarters of 2019. Excluding the likely 2019 result, 4% would be the fastest rate since 2011. Kempczinski stressed the levels for comparable sales and customer traffic should be seen as "the floor, not the ceiling."
The burger chain's board voted Friday to terminate Easterbrook, 52, after investigating reports of a consensual relationship with an employee, which violated company policy, according to a statement Sunday. Kempczinski, who had run U.S. operations, was named to take over.
"While leaders are changing, our strategy is not," Kempczinski said. "Our strategy both globally and here in the U.S. is big, it's bold and it's working."
Kempczinski said in the video to U.S. franchisees that customer traffic has been challenged for seven years. Across the industry, restaurants have struggled to increase diner traffic as fierce competition erodes the customer base and more consumers prepare food at home.
He still faces the difficult task of winning over franchisees who have chafed at the costly remodeling projects that management has forced on them in recent years. Kempczinksi, who is a relative newcomer to McDonald's and has never been a restaurant operator, was the face of the company for U.S. franchisees in the move to add ordering kiosks and give locations a more modern look. He faced backlash for pushing for the changes, which can cost millions, while labor costs surged and much of the industry was engaged in a fierce discounting battle.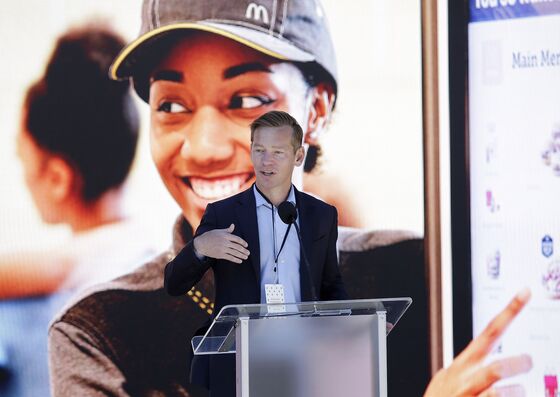 A large group of McDonald's owners has banded together to resist the company's one-size-fits-all model, and they've succeeded in extending the remodel timeline to 2022. Along with new counters, furniture and charging outlets in dining rooms, initiatives such as all-day breakfast and mobile ordering have heaped stress on employees, franchisees have previously said.
In a nod to the past frictions, Kempczinski took a conciliatory tone in his video address, recalling that in one of his earliest meetings as head of the U.S. business in 2017, "I famously, or infamously, said that relationships matter, but results matter more."
"I didn't get it, why are operators upset?" he said. "But something interesting has happened to me in the few years since. I've gotten to know you, you've gotten to know me."
A statement posted on the website of the National Owners Association, dated Monday and titled "Looking Towards 2020," noted "it's been a busy week" for McDonald's, without mentioning the CEO change.
Corporate and franchisee leaders are working on a multiyear plan, Kempczinski said. He thanked operators for their "wise counsel" and pledged "we'll be seeking your input along the way.
His comments on initiatives the company is testing -- such as automated drive-thrus, self ordering and automated coffee -- suggest the company will continue with the roadmap set out by Easterbrook.
"No doubt, winners grow where the market is expanding," Kempczinski said. He cited breakfast, chicken and delivery as areas that are expanding, while noting that value deals are "becoming an increasingly large driver of traffic" in the fast-food industry.
"We'll have a much easier time getting growth if we focus on the areas where we have tailwinds and that's exactly what we're doing in this plan" he said.