McDonald's Almost-Perfect Earnings Record Is on the Line
(Bloomberg) -- McDonald's Corp. has topped earnings estimates in all but one quarter since 2015, underlying a stock rally that's doubled the market over the past three years. With the shares trading near a record high, investors will watch whether the momentum continued in the fourth quarter as the company reports pre-market Wednesday.
And things are not all rosy. The owner of the fast-food restaurant chain faces a worsening slowdown in China and Europe while wage pressure in the U.S. is building. But analysts from Telsey Advisory and RBC Capital Markets see the potential for comparable-store sales to exceed estimates as the company stepped up promotional cadence around its value offerings and the drag from store remodeling probably eased.
Disruption from the Experience of the Future (EOTF) store remodels resulted in an approximate 0.5 point negative impact on U.S. comparable sales from a year earlier, executives said on last quarter's conference call.
McDonald shares have risen almost 3 percent in the past 12 months, bucking a decline in the S&P 500, despite some pressures (EOTF disruption, wages/commodity/delivery costs) and missteps ($1, $2, $3 value menu, franchisee discontent over the remodels). While the stock has an overwhelming amount of "buy" ratings from sell-side analysts (77 percent, according to Bloomberg data), the average 12-month price target of $197 per share implies just 7.9 percent upside from the current trading level.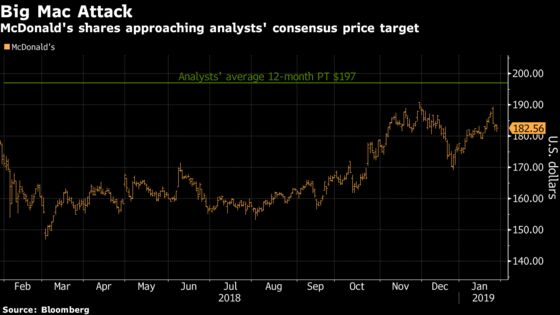 Here's what analysts are watching in the quarterly earnings release:
Telsey Advisory, Bob Derrington
Sees upside to firm's U.S. comp. sales estimate of up 2.2%, even after 4Q17's +4.5%, aided by "aggressive promo support for value and new products, and as the drag from the EOTF remodels is projected to ease"
Expects EOTF headwind to normalize somewhat in 4Q as MCD laps a "heavy pace of remodels" last year; comp. headwind should become a tailwind in 2019 amid expected benefits from the remodels and as management has added more flexibility to its franchise remodel timeline
2019 poised to start with strong trends in key U.S. segment, supported by ongoing expansion of delivery and technology (Mobile Order & Pay); MCD is also set to introduce "craveable new products", "with some effective attention-getting promos"
Rates outperform, price target $195
RBC Capital Markets, David Palmer
U.S. sales momentum, which continued through January, is attributed to:

Improving industry growth, check-driving sales initiatives ($6 meal deal and 2 for $5 mix & match), a greater breakfast focus (Triple Stack Breakfast Sandwich), and improving net lift from store reimages

MCD's recent shifts in its value promotion is an "important shift and believe this will reverse a major drag to SSS growth in 2018"
"While 2018 will likely be remembered as a year of the ill-fated $1, $2, $3 menu and rising franchisee discontent, it was also a year when McDonald's increased the cost of doing business for its competition"; MCD's 2018 mistakes are either "being fixed or are fixable"
Rates outperform, price target $205
Gordon Haskett, Jeff Farmer
4Q U.S. comp. sales are likely in line with estimates;
Investors are likely to focus on:

U.S. comp. sales trends, with color on the value strategy and breakfast daypart
Greater clarity on EOTF comp. sales headwinds: the current magnitude and when remodel closure/sales recovery lag headwinds are eclipsed by remodel tailwinds
MCD's take on the current state of franchise relations with the National Owners Association (U.S. McDonald's franchisee group formed in October)

Expects continued pressure in U.S. company-operated restaurant margins through 1H19 given the company's expectations for continued wage rate inflation and increased D&A cost pressures
Rates buy, price target $205
Oppenheimer, Brian Bittner
Expects "in-line" 4Q results, but believes shares "lack upside potential in 2019 on both earnings and valuation"
Model now normalizes to high-single digit EPS growth (vs the 16% expected for 2018) if comp. sales remain healthy given that refranchising and financial engineering is complete
Consensus already forecasts domestic comp. sales growth accelerating to 3% in 2019 owing to remodels, "which we believe limits upside surprises"
Rates perform
Raymond James, Brian Vaccaro
McDonald's can continue to gain share in the U.S., however, Raymond James is "more reserved' in the sales lift expectations for EOTF in the U.S. compared to the success seen in other international markets"
Vaccaro cites the "deeper/broader competitive set in U.S., higher brand perceptions and market share in international markets vs. U.S."
Monitoring slowing macro trends in Europe, including a sharp deceleration in France possibly due in part to Yellow Vest movement, which could weigh on comps in the Intl. Lead segment
Rates market perform
Bloomberg Intelligence, Michael Halen and Jennifer Bartashus
"McDonald's U.S. market-share gains continued in 4Q, in our view, as the improved mobile app, delivery, fresh beef quarter pounders, the $1 $2 $3 Menu and Triple Breakfast Stacks boosted same-store sales"
Gains were partly offset by EOTF store upgrades
Elsewhere, "guest counts likely fueled strong international sales gains and development in China, as well as other High Growth Markets, fueled a 1.5% increase in net units," they said
Bloomberg expects that the 4Q restaurant-level margin contracted from the 17.3% posted a year ago due to the EOTF upgrades, delivery fees and higher labor and commodity costs
4Q adjusted EPS estimate $1.89 (range $1.81-$1.94)
4Q rev. estimate $5.17 billion (range $4.99 billion to $5.29 billion)
4Q system-wide comparable sales estimate +4.0% (Consensus Metrix, average of 28 estimates)

U.S. comps. estimate +2.4%
Intl Lead Markets comps. estimate +4.7%
High Growth Markets comps. estimate +4.4%
Foundational & Corp. comps. estimate +5.9%
MCD implied one-day share move following earnings 4.3%: Bloomberg data
Shares rose after 7 of prior 12 earnings announcements
Adjusted EPS beat or met estimates in every quarter since 1Q 2015
MCD has 26 buys, 8 holds, avg PT $197: Bloomberg data
Earnings release 7:58am tomorrow
Conference call 11am, 844-353-1873, password McDonalds