Mayorkas Confirmed to Lead Biden's Homeland Security Department
(Bloomberg) -- The Senate confirmed Alejandro Mayorkas to head the Homeland Security Department Tuesday with a bipartisan vote of 56-43, giving the agency its first permanent leadership in several years.
Mayorkas, a naturalized U.S. citizen born in Cuba, is an Obama administration DHS alumnus. He developed and shepherded the Deferred Action for Childhood Arrivals Program, which protects people brought to the U.S. illegally as children, often called Dreamers, from being deported and allows them to work legally.
"I worked in support of all the men and women throughout the Department of Homeland Security and in public service who work in and even rush into harm's way to protect us all," Mayorkas said during his confirmation hearing. "I have not, for a single moment, lost sight of what a privilege and honor it is to do so, nor of the obligations it carries on our nation's behalf."
"Mr. Mayorkas is a proven leader and has the experience to protect the American people from harm," Sen. Gary Peters (D-Mich.) said on the Senate floor prior to the confirmation vote. Peters is the top Democrat on the Senate Homeland Security and Governmental Affairs Committee.
President Joe Biden's DHS pick is now tasked with overhauling or ending many of former President Donald Trump's policies and will work with Congress to advance the immigration bill Biden sent to the Hill on his first day in office.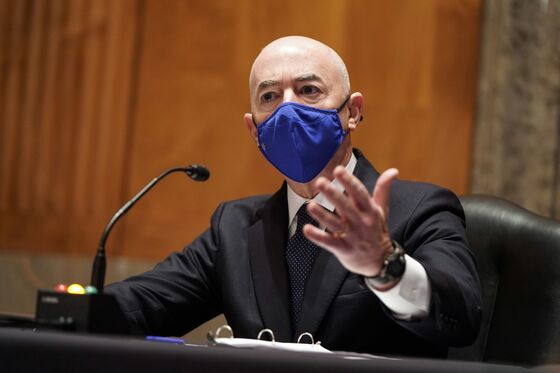 Senate Minority Leader Mitch McConnell (R-Ky.) opposed Mayorkas' confirmation, saying he doesn't deserve a role in government after he turned U.S. Citizenship and Immigration Services into an "unethical favor factory." A 2015 DHS Inspector General's report faulted Mayorkas' heavy-handed approach while serving as the head of USCIS to visas for politically connected people including then-Senate Majority Leader Harry Reid (D-Nev.) and Hillary Clinton's brother, Anthony Rodham.
Republicans also delayed Mayorkas' confirmation over concerns about Biden's immigration policy.
"Mr. Mayorkas has not adequately explained how he will enforce federal law and secure the southern border given President-elect Biden's promise to roll back major enforcement and security measures," Sen. Josh Hawley (R-Mo.) said in a press release on Jan. 19, the eve of Biden's inauguration.
Biden has already taken a flurry of executive actions on immigration, including reversing a policy that restricted travel from several predominantly Muslim countries and dismantling another that required asylum-seekers to wait in Mexico or another country while their application was processed. He also issued a 100-day moratorium on deportations of undocumented immigrants that a Texas court quickly blocked following a lawsuit from the state.
"The policies that President Biden is addressing in his executive order should be addressed here in Congress with bipartisan legislation," John Cornyn (R-Texas) said in a speech on the Senate floor. "It would be better for the country if our Democratic colleagues tried to legislate instead of litigating these executive orders in court."
The U.S. Citizenship Act, Biden's immigration proposal, would forge a pathway to citizenship for roughly 11 million undocumented people living in the U.S.
The proposal would allow undocumented immigrants to apply for temporary legal status, with immediate green card eligibility for certain workers. Green card holders could apply for citizenship after three years.
Farm Worker Groups Pinning Hopes on Biden Immigration Overhaul
Biden and Mayorkas have focused on the importance of creating a legal path to citizenship for undocumented immigrants who have committed no crime other than living in the U.S. illegally and who are contributing to the country's economy.
"I would be privileged to work with Congress to pass immigration reform legislation that provides that path, and provides a permanent solution to what is clearly a broken system," Mayorkas said during his confirmation hearing.
Mayorkas will also hold sway over some immigration proposals set in motion by the previous administration, including rules that hadn't taken effect by the end of Trump's term. The agency lacked a Senate-confirmed leader for the bulk of Trump's last two years in office, and court cases have argued that rules the agency put in place in that time aren't lawful because the interim agency heads weren't serving legitimately.
The new secretary will also take the helm of an agency that lawmakers want to take a more proactive role in responding to domestic terror threats.
Biden cited "political extremism, white supremacy, domestic terrorism" as looming threats to the country in his inaugural speech.
The DHS, in a national terrorism advisory bulletin last week, warned of a heightened threat environment from ideologically motivated violent extremists, including those opposed to the presidential transition.
Mayorkas will also oversee the DHS's Cybersecurity and Infrastructure Security Agency as it responds to last year's major breach into the federal government's online infrastructure tied to software from SolarWinds Corp. Biden's initial Covid stimulus package proposed beefing up the agency's funding following the attack.