NYC Mayor Sets Goal to 'Fully Reopen' July 1 as Virus Eases
(Bloomberg) -- New York City is moving to fully reopen by July 1 with arenas, gyms, stores, restaurants and hair salons returning, Mayor Bill de Blasio said.
"This is going to be the summer of New York City," de Blasio said Thursday during a press briefing. "We're all going to get to enjoy this city again, and people are going to flock here from all over the country to be a part of this amazing moment."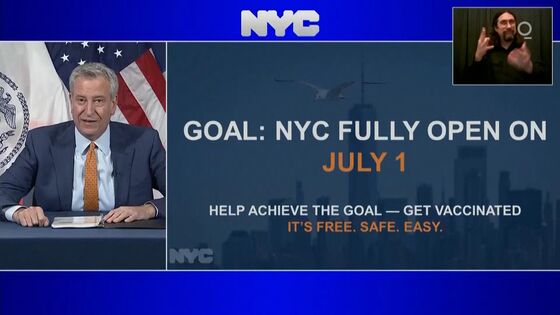 New York locked down almost completely as the pandemic descended upon the most populous U.S. city last March, with schools closing and non-essential businesses forced to shut. The city has been embarking on a slow step-by-step comeback as infection rates have eased, accelerated by the advent of vaccinations. The city is about halfway toward the mayor's goal of having 5 million people fully vaccinated by the end of June, state data show.
Governor Andrew Cuomo, who has ultimate reopening authority, said he hopes the city can fully reopen before de Blasio's July 1 target, but isn't going to make projections.
"It's a statewide management system, and we are managing it by the science, by the data," Cuomo said Thursday at a press briefing in Buffalo. "I would like to get reopening, hopeful reopening date before that. I don't want to wait that long. I think that if we do what we have to do, we can reopen earlier."
De Blasio's goal of a complete re-opening leaves some key sectors until later, such as schools and Broadway. City officials say they intend to offer in-class summer school programs for more than 100,000 students, with school buildings open for full enrollment in September. Shows at Broadway theaters also aren't slated to resume until that month.
To help lead the recovery, de Blasio appointed New York restaurant mogul Danny Meyer, creator of Union Square Café, Gramercy Tavern and Shake Shack, to chair the city's Economic Development board. As the city reopens, it will need to hire a lot of people very quickly, Meyer said. At least 400,000 jobs will return in the city this year, de Blasio said.
"One of my hopes is that the city will be an agent that will connect job seekers with employers," Meyer said.
Cuomo reopened New York City indoor dining in February at 25% capacity and then increased that limit to 35%. On March 19, he boosted it again to 50%.
New York's all-important tourism industry has begun to show signs of slowly recovering. Since January, the hotel occupancy rate has ticked up six percentage points, to about 35%, according to hospitality data company STR. The industry reported its fifth straight monthly increase in average daily room rates, which have risen 12% since December.
New York City has administered more than 6.4 million vaccine doses, according to the mayor. Daily Covid-19 related hospitalizations dipped below 100 Tuesday for the first time since mid-November. New confirmed and probably cases on a seven-day average stood at 1,354 as of April 27, down more than 50% from two weeks earlier. The city's seven-day average rate of positive tests for the virus also fell to 3.18%, from 5.43% on April 14.