May Heralds the End of Austerity. It Probably Won't Feel Like It
(Bloomberg) -- If the age of austerity in Britain is over, it may not feel like it for years.
After Prime Minister Theresa May promised "better times ahead" for voters weary following almost a decade of spending cuts, economists highlighted the scale of the challenge facing Chancellor Philip Hammond as he prepares for his annual budget on Oct. 29.
"I don't know what she means by the end of austerity but it won't look like it, of course, if she doesn't find money for significant pay rises across the public sector," Paul Johnson, director of the Institute for Fiscal Studies, told the BBC.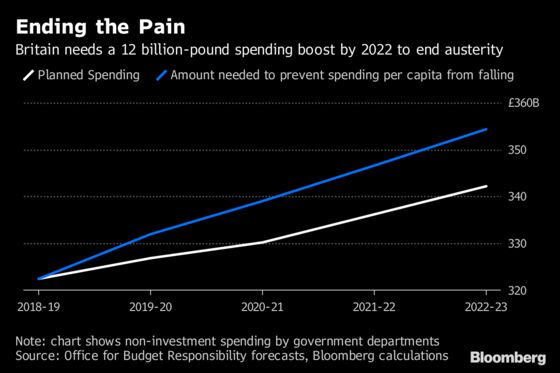 Merely stopping the cuts means finding an extra 20 billion pounds ($26 billion) by the end of the current parliamentary term in 2022, Johnson said. At the Resolution Foundation, Director Torsten Bell noted that day-to-day spending -- the money used to pay for salaries and run schools, prisons and hospitals -- is on course to fall further on a real per capita basis unless 12 billion pounds is added to departmental budgets.
"Austerity as most people think of it ain't over yet," Bell said.
Hammond has some room for maneuver. The budget deficit this year is running well below forecasts made in March, meaning his fiscal watchdog is almost certain to revise down its underlying borrowing forecasts for the coming years.
But that room is limited. The government has already promised a budget boost for the cash-strapped National Health Service, so the pressure on other departments is likely to continue. Hammond also wants to balance the books in the next decade and bring down the level of debt, which has soared since the financial crisis to around 85 percent of gross domestic product.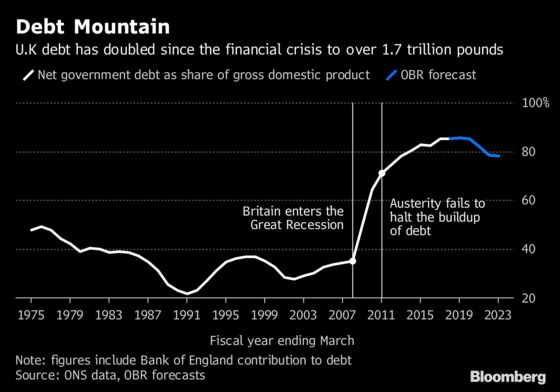 Throw in Brexit uncertainty, the prospect of higher interest rates and the longer-term pressures on spending from an ageing population, and any giveaways Hammond delivers this month may not feel like a decisive break from the past decade.