Mattel Impresses Analysts Who Now Seek Guidance at Toy Fair
(Bloomberg) -- Mattel Inc. soared as much as 30 percent, the biggest intraday gain on record after the toymaker's quarterly results blew past estimates, and posted its first earnings beat in three years.
Analysts applauded the Barbie- and Hot Wheels-driven sales strength and believe that, together with the gross margin and earnings beat, shares should move higher. And, while highlighting global retail transactions that declined by double-digits in the fourth quarter, lagging shipments, they still said Mattel's "well positioned for 2019."
Next, analysts will watch for 2019 guidance, which management will discuss at the 2019 Toy Fair in New York next week. In contrast to Mattel's better-than-expected holiday quarter, Hasbro Inc. earlier announced that its quarterly results fell short of analysts' expectations. Shares fell as much as 5.1 percent.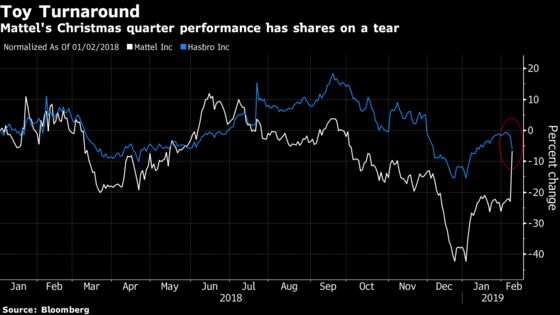 Here's what Wall Street analysts are saying about Mattel:
Sales outperformance was primarily driven by Barbie and Hot Wheels shipment up double-digit percent in constant currency. "We had previously tagged stronger sell-through for these brands in Q4 vs rest of the toy industry, though it seems as if shipment rate of up +12-15% is still ahead of retail sell-through."
Mattel said retail inventory at current customers is down by a mid-single digit percentage y/y. "Clean inventory into '19 after significant Toys 'R' Us disruption in '18 has been a key part of the bull thesis."
Kocharyan questions the shipment versus retail disconnect, noting that Barbie point-of-sales (POS) rose mid-single digits in the quarter vs shipment up 15 percent and Hot Wheels were ahead low single digits at retail vs shipment up 12 percent. Overall, wholesale retail POS was down double digits globally, "in line with our checks and softer than rate of shipment."
While the company is tracking ahead of its cost savings plan, flow through in 2019 may be challenged as Mattel pointed out raw material cost inflation, currency headwinds and incremental spending of at least $85 million this year.
Rates Neutral, price target $15
What Bloomberg Intelligence analysts are saying:
"Mattel's better-than-expected 4Q results may trigger an upward revision in analysts' 2019 sales-growth targets beyond current low-single-digit expectations."

"We believe Barbie and Hot Wheels brands will remain the driving forces behind Mattel's top line but remain concerned about persistent weakness in its Fisher-Price and Thomas & Friends products. Management was reluctant to provide details on its strategy, but we expect to receive some clarity on the revenue-growth approach during the Toy Fair."

"The initial portion of Mattel's structural simplification plan to restore profitability has proven successful, and we are confident that it can exceed the $650 million in annual cost savings by year-end. "
-- Caitlin Noselli
Jefferies, Stephanie Wissink
"Lead IP-brands Barbie (+12%) and Hot Wheels (+9%) contributed half" of the approximate $100 million of sales outperformance, and "reduced sales discounts were the balance."
Sales continue to be "highly mixed by brand, but the ones that matter most grew." That said, it will be difficult to lap Barbie and Hot Wheels growth, and Mattel still has work to do to improve its other brands. "Barbie added $134m to its sales base in 2018 in the absence of direct competition from Disney (Hasbro). Our model assumes Barbie gives $60m back of this gain in 2019 with sales down 5%-6%."
"Tightening the gap across Fisher-Price, American Girl, & Thomas is the 2019 priority. Our biggest worry is pressure from private label." Wissink will also monitor cost inflation and inventory given that shipments for Barbie & Hot Wheels exceeded 4Q sell through," so some inventory remediation may be necessary as 2019 unfolds, especially if sales growth inverts."
Rates hold, price target $13; notes that cash flow burn has persisted and MAT is 10x+ levered, which "remains a key risk."
Better-than-expected revenue reflected "broad-based outperformance across nearly every segment."
Global point of sales were down double digits, (up mid single digits ex Toys 'R' Us), while global retail inventories declined MSD (ex Toys 'R' Us); "MAT believes retail inventories are well positioned for 2019. Toys 'R' Us was an 8% headwind to revenue growth, excluding any reabsorption, which was difficult to quantify."
"China...continues to be plagued by retail inventory issues that MAT expects to be worked through by mid 2019. North America declined 10% y/y, inclusive of a 17% headwind from Toys 'R' Us."
"Although forward-looking 2019 commentary was limited during the earnings call, we expect MAT to provide conservative 2019 targets and to highlight timing issues related to the Easter shift (April 21, 2019 v. April 1, 2018) and forex headwinds in 1H in addition to the broader strategic overview and new product highlights."
Rates neutral, price target to $12 from $11