Massive Bond Rally Pushes Canada Yields To Record Lows
(Bloomberg) -- Canada did not see negative interest rates in the last oil crash. They are creeping closer now as investors rush to the safety of government bonds.
The yield on Canada's 10-year benchmark fell to as low as 0.225% on Monday and the five-year note hit 0.276%, according to Bloomberg data. Traders are now betting on the Bank of Canada, which last week lowered its policy rate to 1.25%, to cut another 50 basis points by its next scheduled meeting in April and another 25 basis points by July.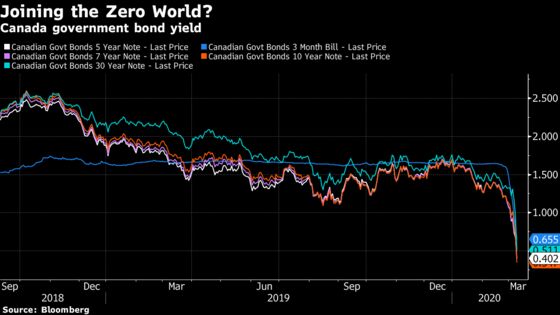 The price of oil, a key Canadian export, plunged more than 30% on the weekend after a rift in the OPEC+ alliance triggered an all-out price war. The risk spread investors demand to hold corporate bonds instead of government securities in Canada spiked Friday to the widest in more than one year.
The jarring moves in global markets have some investors talking about extraordinary measures by the central bank.
"I think negative yields and quantitave easing are big thresholds for the BoC to cross," Hosen Marjaee, Senior Managing Director at Manulife Investment Management. "However, I do not think they will stand by and do nothing if panic gets worse and liquidity dries up."
Last week's 50 basis point cut by the central bank was its first cut since 2015. It came one day after the Federal Reserve chopped rates by the same amount, as Group of Seven finance and monetary policy authorities react to a global economic slowdown.
David Rosenberg, the former Merrill Lynch chief economist who now heads Rosenberg Research and Associates, said this cycle will end with quantitative easing to try to stimulate a recovery.
"QE will be coming everywhere, including Canada," he said. "Practically every central bank is out of conventional policy bullets."