Martin Peters, England 1966 Soccer World Cup Winner, Dies at 76
(Bloomberg) -- Martin Peters, who scored in England's victory over West Germany in soccer's 1966 World Cup final, has died. He was 76.
Described by his national manager Alf Ramsey as "10 years ahead of his time," Peters died in his sleep after a long illness, according to a family statement on the website of his former club, West Ham United. He's the fifth member of England's championship-winning team to die, including team captain and Peters's former West Ham colleague Bobby Moore.
Peters appeared to have secured victory against the Germans as he netted in the 78th minute at London's Wembley Stadium, only for Wolfgang Weber to make it 2-2 in the final minute. After Ramsey told his team, "You've beaten them once, now go out and do it again," Geoff Hurst -- also of West Ham -- scored twice in extra time to complete the hat-trick and a 4-2 England win.
Peters made his international debut two months before the World Cup. The final was his eighth appearance for his country.
An attacking midfield player, Peters developed a reputation for ghosting in behind defenses to arrive at just the right moment for a strike on goal. By the time he retired from the game, he'd scored 220 goals in 882 matches.
Martin Stanford Peters was born in Plaistow, East London, on Nov. 8, 1943. He began his Hammers career in 1959 as an apprentice before signing his first professional contract 18 months later. He soon established himself in the team and made 302 league appearances for the club in 10 years.
He missed out on his first chance to claim a major honor when he was omitted from West Ham's 1964 F.A. Cup-winning team, though a year later started the European Cup Winners' Cup final victory against Munich 1860.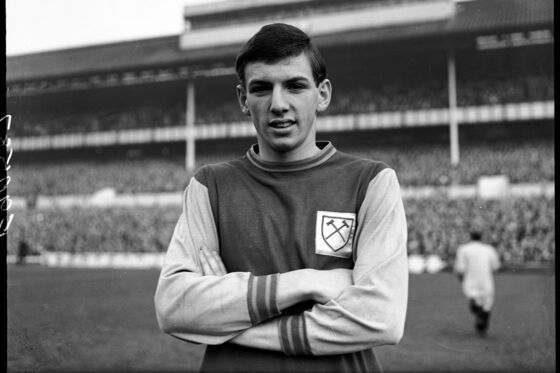 Peters, who had played in every position for West Ham, including a match in goal, left the Hammers in March 1970 to join London rival Tottenham for a then British record fee of 200,000 pounds (at the time worth about $480,000). Striker Jimmy Greaves, who was part of the World Cup-winning squad but didn't get picked for the final, moved in exchange.
At Spurs, Peters claimed two League Cups and the UEFA Cup title in 1972, and continued to represent England. He played again at the 1970 World Cup in Mexico as England reached the quarterfinals only to lose to West Germany. Peters scored 20 goals in 67 international appearances.
He moved to Norwich in 1975, then become player-coach at Sheffield United five years later. He left United in 1981 and later worked in insurance, while he also had several years as a non-executive director at Tottenham.
Peters married his wife, Kathleen, in 1964. The couple had two children.