Married Women Take Brunt of Pandemic Hit to Korean Employment
(Bloomberg) -- Working moms in South Korea have suffered far greater job losses than single women during a pandemic that has hit female employment harder than in previous economic crises, according to research by the central bank.
Among women aged between 30 to 45, those who were married accounted for 95% of the reduction in female employment in the year through March 2021, according to Bank of Korea economists Oh Sam-il and Lee Jong-ha.
That sets the pandemic apart from previous recessions when men typically suffered significant job losses, leading married women to stay in the job market to become family breadwinners, the research showed. Single women saw a greater decline in employment than their married counterparts in earlier slumps, it added.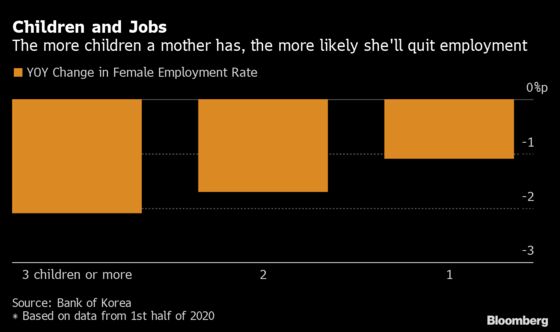 While the number of employed single women fell about 6% in the early stages of the pandemic, it recovered its pre-virus level within six months. That compares with a corresponding 10% drop in the number of employed wives and that figure still hasn't returned to its pre-pandemic level.
Korea lags its developed peers by a wide margin when it comes to gender parity in employment, and its sub-par performance is expected to have worsened during the Covid crisis.
The country has done relatively well in containing outbreaks, but schools have often been shut while work-from-home hasn't been as widely applied as in other countries, putting an increased childcare burden on mothers.
The BOK study showed the more children a family had, the more likely it was for the mother to give up her job. The employment rate decline was the largest for women who had children aged between 7-12.
Female employment fell by 137,000 in 2020, far outpacing the 82,000 job losses for men, according to statistics office data.
The pandemic also affected women disproportionately because many of them worked in service sector positions that involved face-to-face contact. Those jobs may not return fully, because some could have been replaced by machines, the BOK study said.