Markets Unfazed With Pressure on Finance Minister Before South Africa Budget
(Bloomberg) -- As the temperature in Cape Town soared to 36 degrees Celsius (97 degrees Fahrenheit) on Monday, South African Finance Minister Tito Mboweni may be feeling heat of a different kind.
Mboweni, barely two weeks into the job, has to reassure investors and rating companies in his mid-term budget speech in the city on Wednesday that he has the budget deficit under control, while finding money to boost an economy that fell into recession in the first half. Investors seem confident he can: bond yields fell to two-week lows Monday and the rand gained, while traders curbed bearish bets on the currency.
Analysts from Nedbank Group Ltd., Citigroup Inc. and Informa Global Markets are predicting a rally in the rand, even as the projected budget shortfall is seen wider than the February estimate of 3.6 percent. As long as the gap remains below 4 percent, sentiment won't sour toward the rand, according to Mehul Daya and Neels Heyneke at Johannesburg-based Nedbank.
"The market is quietly optimistic about the budget," said Gordon Kerr, a fixed-income trader at FirstRand Bank Ltd. in Johannesburg. "Everyone expects the deficit to widen from February but tax revenue has surprised to the topside. And Treasury will keep to the fiscal consolidation story because they can't afford not to."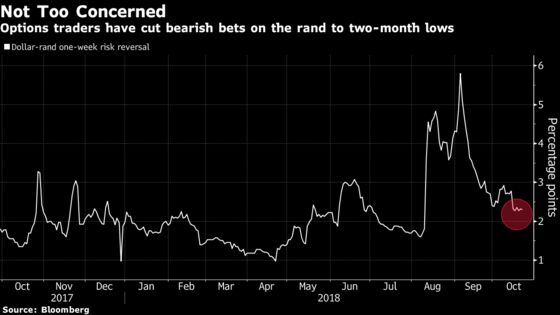 The premium of options to sell the rand over those to buy it versus the dollar in the next week declined 3 basis points on Monday to 2.3 percentage points, down from as high as 5.8 last month. One-week implied-volatility fell 78 basis points to 18.5 percent, suggesting options traders expect price swings to moderate. The rand weakened 0.4 percent to 14.3837 per dollar by 8:35 a.m. in Johannesburg Tuesday after advancing 0.7 percent the previous day. Yields on benchmark bonds due December 2026 were little changed at 9.15 percent after falling six basis points on Monday.
Here's a round-up investor and analyst comments on markets during budget week:
Zaakirah Ismail, analyst at Standard Bank Ltd.:

"The medium-term budget policy statement will likely overshadow local data releases and will be significant for both rand and bond movements. If the medium-term budget policy statement is as benign as we expect, and if Moody's preserves South Africa's credit rating and the stable outlook this year, it should provide relief to the bond market"

Mehul Daya and Neels Heyneke, analysts at Nedbank:

The MTBPS "will provide a short-term catalyst for the rand to strengthen, as our estimates point to small but limited fiscal slippage in the near term since the pace of revenue collection has picked up"
"The rand should be supported by local fundamentals and positive investor sentiment; hence we favor a move to 14.20, with the possibility of targeting 13.90" per dollar, provided the external environment doesn't deteriorate

Gordon Kerr, trader at FirstRand Bank:

"I think the biggest question mark is around issuance. If that comes out reasonable, bonds have every chance of rallying"

Lukman Otunuga, research analyst at FXTM:

"This could be an explosively volatile trading week for the South African markets as anticipation mounts ahead of the medium-term budget policy statement. A gloomy statement is likely to translate to rand weakness and losses on the JSE. USDZAR is likely to challenge 14.20 in the near term amid dollar weakness"

Luis Costa, head of CEEMEA strategy at Citigroup:

"We believe the rand will likely trade well this week, as a market response to a neutral budget statement and the possible announcement of further infrastructure spending international pledges by foreign states"
Citigroup initiated a short dollar-rand trade via three-month forwards, anticipating a rally in South Africa's currency to 13.60 per dollar.

Sebastien Barbe, head of emerging-market research and strategy at Credit Agricole SA:

"A slight slippage of the government finance is expected as the government tries to stimulate economic growth. The question is whether the slippage will be narrow enough to keep Moody's comfortable with the country's current rating. The recent quick replacement of Nene by Mboweni as Minister of Finance suggests the government wants to remain market friendly. This suggests the budget plan may also try to accommodate the markets' expectations"