Markets Are Sending a Worrying Signal About the Australian Economy
(Bloomberg) -- Australia's central bank says the next move in interest rates is a hike. Yet investors are starting to embrace the idea that policy makers will be forced to cut.
In the bond market, the yield curve for overnight index swaps -- a gauge of expectations for short-term rates -- has inverted, showing that traders expect the Reserve Bank of Australia's cash rate to be slightly lower than the current 1.5 percent in a year's time. Similarly, the cash-rate futures market is now suggesting about 10 percent chance of a cut in the second half of next year, and less than 5 percent for a hike.
A slew of weaker indicators, including evidence of a housing downturn so harsh that Sydney values are dropping the most in three decades, has spurred concern at global fund managers BlackRock Inc. and T. Rowe Price Group Inc. The most recent consensus among economists was there's no move coming by Governor Philip Lowe next year, and a hike in 2020. That leaves the Australian dollar vulnerable if predictions for a cut start to spread.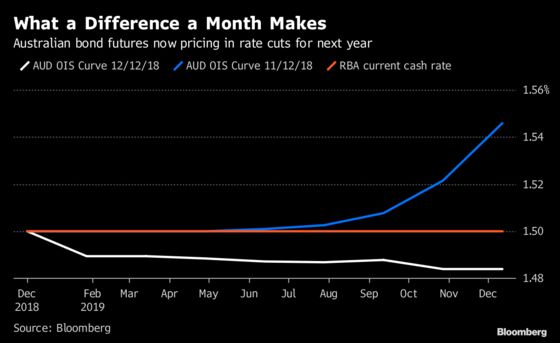 Money managers AMP Capital Investors Ltd. and Quay Global Investors have gone so far as to forecast that the next move in the policy rate is down. While the RBA hasn't ruled out a reduction if needed, the central bank anticipates a tightening in the job market that will boost inflation and at some point necessitate a rate rise.
A senior RBA official signaled this week the next move is likely a hike -- read that here.
Australia's dollar has been the worst performer among the Group-of-10 major currencies so far in December. But at around 72.4 U.S. cents late in Sydney Thursday, it was some way off the 70.2 cents 2018 low hit in October.
"If things really turn down here and you've got some serious declines in house prices, probably mid-60s would be the floor on the Aussie" against the dollar, said Craig Vardy, head of fixed income, Australia, at BlackRock in Sydney.
While Australia continues to grow faster than the U.S. and consumer confidence is holding up, several data points have stoked investor worry alongside the housing weakness. Gross domestic product showed the weakest quarterly performance in two years last quarter.
"If I had to set up a casino and the odds were 50/50 that the next move would be up or down, I'd put my money on the next move being down" for the RBA, said Chris Bedingfield, who runs a global real estate fund at Quay Global Investors after previously working in investment banking.
As for stocks, Australia's S&P/ASX 200 Index has tumbled this quarter alongside the global sell-off, with an 8.5 percent retreat that roughly matches the slide in the U.S. S&P 500 Index. Domestic headwinds added to global concerns would see Aussie shares underperform, says Shane Oliver, chief economist at AMP, who expects an RBA rate cut next year.
One wildcard for investors: a looming general election. The opposition Labor party, leading in the polls, favors cutting some tax incentives for investment properties, potentially affecting both the current housing indicators and the outlook for 2019.
"We've got some election uncertainty to introduce into the equation," Ray Attrill, head of foreign-exchange strategy at National Australia Bank Ltd., told Bloomberg TV. "Even without a rate cut we could spend some time below 70 cents per dollar for the Aussie, he said.