Italian Bonds Back in Vogue After Lagarde Exceeds Market Hopes
(Bloomberg) -- Italian bonds are in fashion with investors once again, thanks to a helping hand from the European Central Bank.
The nation's debt rallied the most in three weeks after the ECB announced a bigger-than-expected expansion to the trillions of euros in stimulus it has devoted to offsetting the economic fallout of the coronavirus.
The euro rose by as much as 1.2 per cent, heading for its eighth consecutive day of gains, its longest winning streak since 2011.
A key measure of risk on euro-area markets -- the yield premium on Italian 10-year debt over its German counterpart -- fell to the lowest level since March.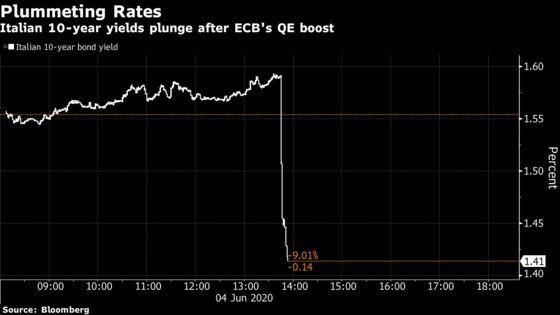 The moves came after the ECB upped its pandemic debt-purchase program, or PEPP, by 600 billion euros ($679 billion) to 1.35 trillion euros. That was around 100 billion more than expected, giving it enough firepower to support Europe's economy until February next year, according to Danske Bank AS estimates.
Much now rests on whether Europe's governments will follow the lead set by Christine Lagarde, the ECB's president. To do so, they will need agreement to set up a continent-wide recovery fund, a move that could further drive borrowing costs lower for Italy's embattled economy. Investors are already cashing in though, riding a rally in some of Europe's highest-yielding government assets.
Richard Hodges, a money manager at Nomura Asset Management Co., said that he sold his holdings of 15-year Italian bonds after the ECB decision. Antoine Bouvet, head of European rates strategy at Mizuho International Plc said that the compression of Italy's borrowing costs relative to Germany's still has further to run.
"They had little choice but to match expectations and exceed them," said Hodges. "What a day."
The decision also involved an extension the program's duration and a pledge to reinvest the proceeds from maturing bonds it owns until at least the end of 2022.
European stocks also rebounded from losses, with the Euro Stoxx 50 trading steady.
German bonds, some of the safest assets in the euro area, bore the brunt as investors pared bets on the chance of a euro-area breakup. Yields on 30-year bunds rose 7 basis points to 0.19%.
Chancellor Angela Merkel's 130-billion-euro package of support measures, sealed after two days of negotiations, added to the diminishing attractiveness of the securities, given that extra borrowing will be needed to fund it. Yields are up for a fifth week, the longest stretch since 2018.
"The ECB delivered even more than expected both with the size of the add-on to the PEPP," said Esty Dwek, Head of Market Strategy at Natixis Investment Solutions, in emailed comments. "This is yet another step in support of more cooperation across Europe and can only be welcomed by markets."
Sentiment has been buoyed by the EU giving its firmest commitment yet that it is willing to do whatever is necessary to stave off growing economic dichotomies between the region's richer Northern countries and debt-laden Southern nations. Leaders are set to start haggling over the bloc's 750 billion euro recovery fund later this month.
Part of the proposals for that include the issuance of joint-debt -- a major landmark for the bloc should it be agreed -- which would remove some of the burden on individual nation's budgets. Italy's debt as a proportion of economic output is set to rise above 150% this year.
The need to finance bulging deficits has seen the bond market beset by a surge in debt supply. The spread between German 10-year bond yields and interest-rate swaps, for example, has narrowed to 28 basis points, the lowest since 2015, as markets make way for it.
Still, demand has remained buoyant, with Italy racking up over 100 billion euros of orders for a sale of 10-year securities Wednesday.
Italy is a major beneficiary from the ECB's PEPP program, with the institution buying 37.4 billion euros of the nation's debt since the plan started. Ten-year yields fell by as many as 18 basis points to 1.38%, narrowing the 10-year yield spread over their German peers to 172 basis points, the lowest since March 27.
"Without such support, the situation would look quite different for Italy," said Jan von Gerich, chief strategist at Nordea Bank ABp. "But no need to for such ifs: the central bank support is not going away."