Markets Are Reeling in Brazil on Deficit Fears, Political Tumult
(Bloomberg) -- Brazil's stocks, bonds and currency are posting some of the worst returns in the world this month amid deteriorating public finances, a worsening growth outlook and political turmoil.
The Ibovespa stock benchmark posted its fourth straight month of losses, its worst run since 2014, and closed in a bear market Friday, down 21% from its June peak. The real has weakened more than 3.5%, the biggest drop in emerging markets after the Turkish lira, and local bonds have also sold off. Risk premium as measured by five-year credit default swaps is at the highest in more than a year.  
Traders have plenty to worry about. The government's push for extended welfare payments has put the spending cap rule, a safeguard of fiscal stability, under threat, prompting resignations in the government's economic team. 
Soaring consumer prices and the prospect of a wider fiscal deficit led the central bank to raise interest rates at the fastest pace in nearly two decades this week, potentially undermining a recovery that was already sputtering. The jump in inflation, in turn, has put pressure on state-controlled oil company Petroleo Brasileiro SA, with politicians including President Jair Bolsonaro blaming the company for soaring fuel prices that are eroding purchasing power.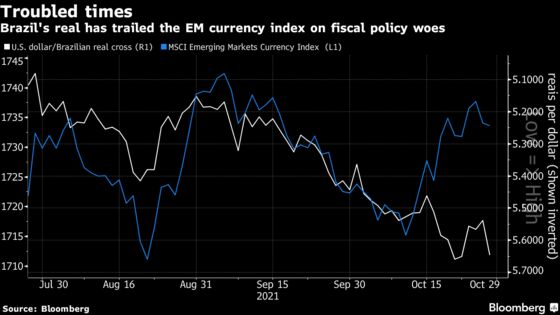 "The Brazil news flow has clearly deteriorated," Bank of America Corp.'s Latin America equity strategist David Beker said in an interview. Beker, who downgraded Brazil to market-weight from overweight in his Latin America portfolio earlier this week, expects the higher interest rates to damp growth.
Assets extended their slide on Thursday, after the central bank's latest interest rate hike failed to reassure investors. The nation's policy makers have been the most hawkish in the world this year, raising the benchmark rate by 5.75 percentage points since March. But some economists said it may need to be even more aggressive to get inflation back under control. 
News that the government may extend Covid-19 cash handouts into next year also accentuated investor fears. Bolsonaro is pushing for a new social program as the Covid handouts ran out and his popularity flails amid a weak recovery and soaring prices. The president has repeatedly attacked Petrobras, as the national oil company is known, sometimes saying he wants to curb rising fuel prices and at other times saying the company should be privatized. 
Read More: Bolsonaro Mulls More Covid Handouts as Social Program Stalls 
"Petrobras raises prices because it has to follow the law, and we're here trying to find a way to change the law," Bolsonaro said Thursday on social media, criticizing the fact that the amount the company charges for fuel is linked to currency fluctuations. 
His comments sent the real, already the day's worst-performing emerging market currency, sliding even further. Brazil's stock market was closed, but Petrobras depositary receipts in New York sank as much as 6.3% in after-hours trading. 
The company's preferred shares slumped more than 6% in Sao Paulo Friday, with Bolsonaro's fresh criticism toward higher fuel prices offsetting Petrobras's extra $5.6 billion payout to holders. 
"You've got a lot of people who are giving up hope on what was a good direction for the country," said Phillip Torres, global co-head of emerging market debt at Aegon Asset Management in Chicago. "We need a better policy prescription and we need it fast."