MarketAxess Is a Decade Standout With a 2,600% Gain
(Bloomberg) -- After a stunning rally that brought shareholders an almost 2,600% return, MarketAxess Holdings Inc. is exiting the 2010s as the decade's undisputed champion in the S&P 500 financials index.
The electronic trading company's 10-year rally was more than triple that of the next-best performing stocks in the index -- Moody's Corp., MSCI Inc. and S&P Global Inc., which each gained more than 700%. Overall, the 66-member gauge increased 163%.
MarketAxess has been a "play on a theme that's worked exceptionally well over the years -– automation of financial trading markets," Sandler O'Neill's Richard Repetto said by email. "The corporate credit market has been slower and more difficult to electronify, but it is becoming clearer it's happening more every year," he said. "Investors have seen this movie before in numerous other asset classes!"
Unlike "mainstream" financial companies, which faced a prolonged period of lower interest rates and tighter regulation, MarketAxess saw its product volumes fueled by "technology innovations and demand for more efficient and transparent fixed-income trading," Bloomberg Intelligence's Paul Gulberg said. That helped the company take market share, he said.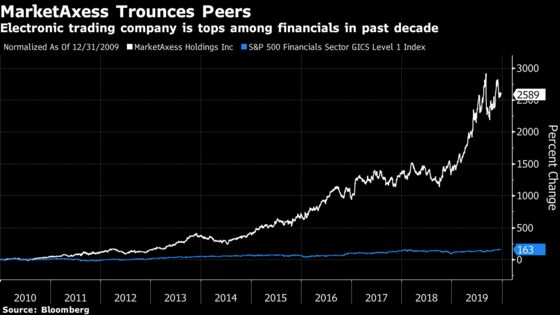 MarketAxess "stayed under the radar, until Tradeweb Markets Inc. created some noise and recognition this year," according to Gulberg. The bond and derivative trading platform went public in April and was the best-performing of the eight U.S. IPOs exceeding $1 billion this year, according to data compiled by Bloomberg. The shares have rallied more than 70% from their offer price, buoyed by the same optimism about electronic trading.
MarketAxess has soared more than 3,300% since its IPO in November 2004, beating a 178% gain for the S&P 500 and an increase of just 29% for the S&P 500 financials. The stock didn't look so appealing during the financial crisis, when it dipped to a record low close of $4.31 on Oct. 17, 2008, according to data compiled by Bloomberg.
Repetto said he reminds CEO Richard McVey of that every so often, as "it's a tribute to his perseverance as he's been there since April 2000."