Market Sees Caputo Exit as Blow When Argentina Needs It Least
(Bloomberg) -- Investors were rattled Tuesday by the resignation of Argentina's central bank president amid ongoing negotiations with the International Monetary Fund.
Luis Caputo stepped down a day after President Mauricio Macri said a revised deal with the IMF would require a new approach to monetary policy. Market watchers say that the resignation of Caputo -- a former trader who was well-regarded by investors -- adds pressure at a crucial moment for Argentina's economy. The peso lost 3.4 percent on the day, the worst performance among global currencies.
"Caputo had already established a stable relationship with market participants," Tania Escobedo Jacob, a strategist at RBC Capital Markets in New York, said in an interview. "Doubts and uncertainty are the least Argentina needs right now."
Caputo will be replaced by the deputy economy minister, Guido Sandleris, in a move that signals broad policy continuity.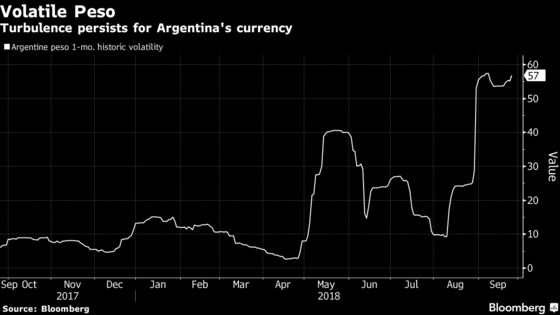 Here's what analysts and investors had to say:
Caputo's "stance was always orthodox and his responses aggressive when they had to act. They were doing relatively well on the Lebac plan, etc."
"I don't think unexpected changes like this one are positive signs. Is it because there are disagreements between Macri and the BCRA team? They have been talking about a potential floating band for ARS, which I think would be a very bad idea."
"In general, Argentinian assets are in a very vulnerable situation and any mistake can be very costly in terms of market confidence"
Kathryn Rooney Vera, head of global research at Bulltick Capital Markets in Miami:
The resignation shows there's instability in Macri's administration; timing is poor, given today's nationwide strike
Caputo was a "real heavy-hitter"; market likes him
"The market doesn't know Sandleris as well. He's good on paper and has the credentials, but he's not as much of a heavy-hitter as Caputo"
Sandleris has strong academic background, technocrat; says Sandleris will work with IMF
Argentina remains good long-term buy with attractive valuations; not at default risk in near-term
Josephine Shea, a portfolio manager at Standish Mellon Asset Management in Boston:
"With the negotiation between the IMF and Argentina on a new program in its final innings, the market's interpretation of Caputo's unexpected resignation seems to link the two"
"We are expecting news flow around the program from his replacement Guido Sandleris or the IMF soon. The order of news flow thus far has us scratching our heads a little, so more information would be really helpful"
"Due to the absence of full information, the jury is still out there on what the implications might be"
"His resignation does not change our Argentina view, but receiving more information and clarity around the IMF program and its proposed FX regime, as well as proposed fiscal reforms, will be crucial for our outlook"
Paul Greer, a money manager at Fidelity International in London:
"Negotiations with the IMF about an expanded and revamped program have taken longer than most expected"
"Caputo's resignation will only add to investor uncertainty around the rationale for the departure after only three months in the job"
"Another key question will be what FX regime the IMF will request in the revamped program and if they permit the BCRA to continue depleting its international reserves to support the peso"
"Aside from the IMF negotiations, the main concerns in Argentina are around the magnitude of the recession and the potential political fallout"
"This will remain a key uncertainty for investors over the next 12 months ahead of the October 2019 Presidential elections. Today's general strikes and rising unemployment will further hit the popularity of Cambiemos"
Alejandro Cuadrado, the global head of foreign exchange at BBVA in New York:
Caputo's resignation "generates noise regarding monetary policy redefinition within the framework of the revised IMF agreement"
The noise will be temporary "as it may be seen that there's continued debate"
Predicts ARS to end year at 42/USD; doesn't plan to revise projection until there's more clarity on monetary policy redefinition under revised IMF agreement
Appointment of Guido Sandleris as Caputo's appointment signals some policy continuity
Win Thin, the global head of currency strategy at Brown Brothers Harriman & Co:
"I have to be honest, I'm underwhelmed with the choice of Sandleris"
"I think Argentina needs someone with a little more heft given current conditions"
"After a brief lull, I think EM is back in the news and it's not good. Combination of higher US rates and ongoing trade tensions remain in place, but now you have the idiosyncratic risks back in play"
Peter Lannigan, the head of emerging markets at Newfleet Asset Management:
"I'm more sanguine about it than what the initial headlines may indicate"
Replacement Guido Sandleris will be fine; his academic and work background shows he knows what needs to be done
Believes reason for Caputo leaving was intervention in the currency markets
"I have to confess that when I saw them using some funding to defend the currency, I interpreted that as a negative in a string of positive things they could have done."
From here, investors need to assess what deal Sandleris will strike with the IMF
Roger Horn, the senior emerging markets strategist at SMBC Nikko Securities America:
"For an administration that has its own share of behind-the-scenes infighting on economic policy, the positive out-take on this -- even if the IMF is pushing for a more independent central bank -- is that it could help Macri's team communicate a more unified message to the markets
"The market wants to find good news for Argentina so they might actually take it okay
"In addition, the overall EM risk tone has gotten a little better over the past week so maybe the market is looking to react positively to news out of Argentina"
Appointment of Guido Sandleris as replacement signals that a "unifying message is the direction they're going for"
Natalie Rivett, a senior analyst for emerging markets at Informa Global Markets:
"The market has reacted negatively as you would expect, given the governor was only three months into the job"
"This is a blow to Macri's attempt to restore investor confidence"
"We still think a line may have been drawn under the recent peso sell-off"
"The currency is just lacking reasons for a meaningful rebound and this resignation is a reminder to stay cautious; I still wouldn't be worried about contagion yet"